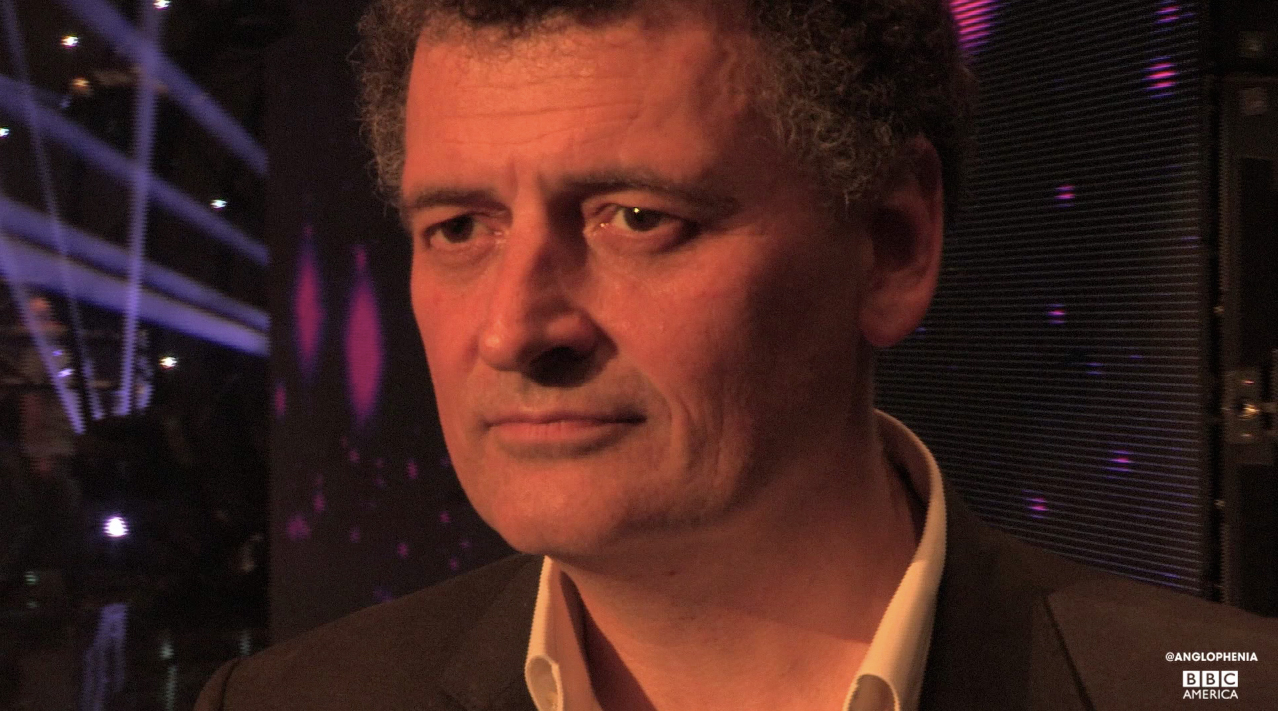 Doctor Who showrunner Steven Moffat has poked his head above the parapet recently to give fans a few hints of what might be to come from Peter Capaldi as the Twelfth Doctor. He told Doctor Who Magazine that "I'm pretty certain he'll use his Scottish accent. I mean, he can do other accents – and nothing is utterly confirmed, you must understand – but I think it's likely that he will. I think it's important, if you're the actor playing the Doctor, to keep quite close to yourself. I think you bring a lot of yourself to it."
Moffat was also asked if the Twelfth Doctor's costume was under consideration yet. "Not really. We've discussed costume in the lightest terms, but with Matt Smith I discovered myself to be inept at costume discussions, so I tend to step away from that. I think it's really important that the actor chooses what makes him feel like the Doctor, which is what Matt did in the end."
Intriguingly, the writer revealed that Capaldi didn't get to do any testing with companion Jenna Coleman prior to being given the role. "We had all sorts of plans to do stuff like that. But it was just irrelevant, really. He's such a great actor and he was so good, we just thought 'Well, let's not be silly, of course we're going to cast him.' Great actors always find their chemistry together, so that'll be fine."
"Initially I think what will be fun is seeing Clara cope with the Doctor being completely different. People really love Jenna, so we make the Doctor quite difficult. If you remember Tom Baker's first season, he's really quite difficult to take at the beginning. And you're very grateful that Sarah's there, and the Brigadier's there, to reassure you that this lunatic who has replaced the elder statesman is really the same man. I'd like that sort of feeling."
It was a different companion that was on Moffat's mind when being interviewed on stage at a comedy event in Edinburgh last week, however. "When the show came back, I think it really was Billie Piper who brought it back," he told the audience. "Those first two years, that was Billie Piper's show. It became David Tennant's show in the third year but it was all about Billie, and Billie as Rose. And Russell T Davies was clever in writing that character and casting that character so perfectly. Seriously, in the first two years, that was Billie Piper's show."
• The BFI held their latest anniversary celebration event last week, with a showing of the Ninth Doctor two-parter "Bad Wolf" and "The Parting of the Ways". Christopher Eccleston was unable to attend the event, but sent a message to fans in which he reserved particular praise for the story's director Joe Ahearne:
I love the BFI. I love the Doctor and hope you enjoy this presentation. Joe Ahearne directed five of the thirteen episodes of the first series. He understood the tone the show needed completely: strong, bold, pacy visuals coupled with wit, warmth and a twinkle in the performances.

If Joe agrees to direct the 100th anniversary special, I will bring my sonic and a stair-lift and – providing the Daleks don't bring theirs – I, the ninth Doctor, vow to save the universe and all you apes in it.
• The writer behind the popular Who fan site Blogtor Who is currently raising crowdsourced funds for a documentary about the last 50 years of Doctor Who fandom. Titled Who's Changing, the film will feature interviews with writers, actors, famous fans and many more in an attempt to present a wide-ranging and affectionate look at what it's meant to be a "Whovian" over the last five decades. The campaign on Indiegogo has a target of £4,000 ($6,200), but due to the nature of the campaign will receive all funds raised even if the target isn't met before the September 15 deadline.
• As Steven Moffat noted in Doctor Who Magazine, Matt Smith made quite a few attempts at his Eleventh Doctor costume before settling on his iconic tweed and bowtie look. The Doctor Who Tumblr charts his sartorial evolution, proving that Smith would look dapper in just about anything:
• Remember our recap of the Doctor Who meetup at San Diego Comic-Con, which packed 600 Whovians into a bar for a celebration of the series' 50th anniversary? Well, here's a opportunity to see all of the brilliant cosplay in motion. And Matt and Jenna popped in to a rapturous response:
• io9 offers "the most horrifying Doctor Who cosplay we've seen in ages.
Read More
Filed Under: