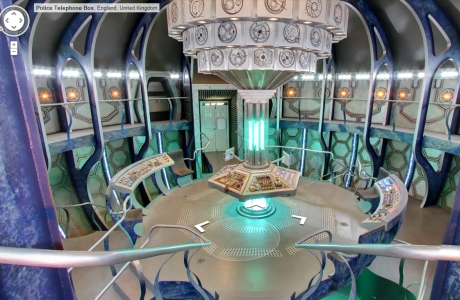 Google Maps have celebrated Doctor Who's 50th anniversary by adding a 360-degree panoramic view of the interior of the Doctor's TARDIS to their Street View function.
The location to zoom in on isn't a junk yard in Totters Lane, however — but, rather, the police box replica situated outside Earl's Court tube station in West London. A popular destination for visiting Whovians, rather than being an original working police box of the sort featured in the show, it was actually installed in 1996 as part of an ultimately abandoned attempt to reintroduce the boxes to London streets. While police boxes were prevalent at the time of Doctor Who's original broadcast in 1963, nowadays only a handful survive – and the Earl's Court box is one of only two based on the same "Mackenzie Trench" design as the original TARDIS.
The Street View function offers visitors the chance to virtually "walk" around all sides of the console room – both down at console level and around the upper mezzanine – but sadly doesn't extend (at least not yet) to such rooms as the library, Zero Room or the infamous swimming pool. Nor have we yet managed to find a button on the console that means that when you zoom back out to street level you're on the planet Skaro, but we're sure it's only a matter of time…
• David Tennant, now the star of BBC AMERICA's Broadchurch, tells Entertainment Weekly working with Matt Smith in the Doctor Who 50th anniversary special was "a real joy." "I suppose you'd expect me to say we're new best friends and I love him like a brother. But that is sort of how it was. I had a fantastic time and that wouldn't necessarily have been the case. I'm coming back onto a show that's effectively somebody else's show and used to be mine and that's potentially quite a weird situation to be in…." Read more at EW.com.
• Doctor Who Magazine have revealed the cover to their latest issue, #464, which marks Twelfth Doctor Peter Capaldi's cover debut. "We're still exploring who the Twelfth Doctor is," he says in his message to readers, "but every one of the last 50 years will have helped make him." The magazine goes on sale this Thursday August 22.
• This is a laugh: Matt Smith and Jenna Coleman living it up on TV Guide Magazine's Comic-Con yacht and answering questions like, "Which superhero couldn't save the world?"
• A fascinating piece from E&T Magazine on how classic episodes of Doctor Who were restored.
• The Doctor Who Experience in Cardiff unveiled the First Doctor's TARDIS console room, which was recently used in the docudrama An Adventure in Space and Time. Watch as crew assemble the set in time-lapse view:
• Don't you love it when Doctor Who goes meta? What Culture tracks a few of the series' best inside jokes in 5 Brilliant Doctor Who references in Doctor Who.
• Jamie and Barry from SORTED Food attempt to create fish fingers and custard two ways – the real deal and a faux-fish finger made from cake. Guess which one they thought tasted better.
• Here's a first look at Karen Gillan playing a "Gadget Girl" in Adult Swim's comedy NTSF:SD:SUV::::
• While all eyes are on the official broadcast anniversary date of November 23, according to the Doctor Who News Page today is a very special anniversary of its own – as exactly 50 years ago, on Tuesday August 20, Doctor Who had its first ever studio session, in the form of a test run at the famous Ealing Studios for the show's iconic title sequence…
Read More
Filed Under: