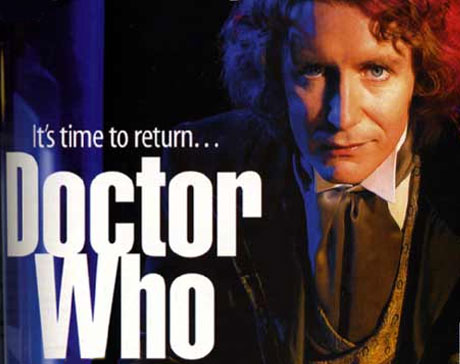 We left off yesterday with the arrival of the Seventh Doctor, Sylvester McCoy, in 1987, and then, just as things were looking promising, we went mysteriously quiet. It just seemed like the right thing to do.
Here's how CNN announced the arrival of the Eighth Doctor, Paul McGann, in 1996:
But as this was a one-off TV movie, there was no formal announcement of the end of his tenure, no regeneration, or even a hint that the Doctor would return. Not for another eight years. And of course, when Doctor Who did come back in 2004, the casting of a new Doctor took second place to the hot news that there would be a new Doctor at all.
BBC News, lead with this new story, featuring a very fresh-faced Mark Gatiss and very little discussion as to who would take over the TARDIS. And again, it was the return of the Daleks that dominated news interest in the revamped show, and the first casting rumors suggested a comic approach, with Eddie Izzard, Alan Davies, Anthony Head and Richard E Grant all being put forward as possible choices.
And then Christopher Eccleston was announced as the Ninth, with Russell T Davies saying he was the "first choice" for the role:
And with that, we're back in business.
When Christopher announced he was not going to return to the show after one year, the relaunch had already been such a startling success, with two more seasons already commissioned, that was when a familiar note of tension and excitement began to creep once again into the casting process. This time for all the right reasons.
According to BBC News, David Tennant's name was in the frame from the start, alongside Alan Davies and Richard E Grant, David Thewlis and even Bill Nighy.
The Tenth Doctor was announced with some fanfare (although nothing like the scale we've seen over the past few weeks). Here's BBC News's report, and an interview he gave to the Guardian, before he'd really started.
Four years later, with the universe at his feet, David chose to move on, and this time, it created a frenzied response, putting Doctor Who back on the evening news:
And shortly afterwards, his replacement arrived. Here's Matt Smith's first BBC interview, shown on the day he was announced as the Eleventh Doctor.
And naturally, now his four years are coming to an end, his decision to leave has made the news. This time on a global scale:
Which leaves us once again with that burning question. Doctor who? 
Find out this Sunday, in a 30-minute long live TV show announcing a new Doctor, 2pm/1c, on BBC AMERICA. Follow Anglophenia on Twitter for live coverage and photos.
Read More
Filed Under: