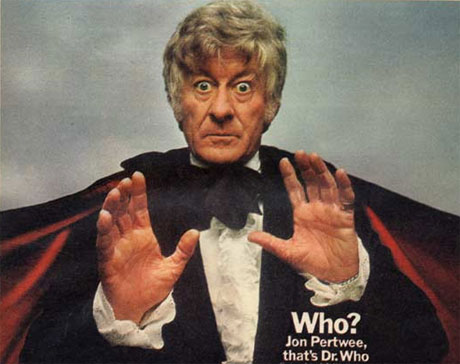 This Sunday, an event that has only happened eleven times in the past 50 years will happen again. An actor or actress will be confirmed as the new Doctor in Doctor Who. It's an announcement that will be receiving a LOT of attention, a 30-minute live TV show, with interviews and analysis and all sorts.
This literal Who-ha represents a far greater reaction than the public and press responses to some of the Doctor's previous incarnations. In fact if you go back as far as the very first regeneration, then known as a "renewal," TV listings magazines like the Radio Times were encouraged to play it down, so as to reassure fans that it would be business as usual.
But let's start at the beginning, in 1963. Here's how the very first Doctor arrived, in the Radio Times at least:
Three years later, and with William Hartnell's health on the wane, the decision to replace him threw the sucess of a very, very popular show into jeopardy. Having hit upon an ingenious solution, for his character to renew his own body at the point of death, there was a fear that fans would desert the show.
Consequently, as the Second Doctor's first adventure was "Power of the Daleks," Radio  Times, attempting to smooth things over, ran with the front page headline "The Daleks are back!"
BBC Archive has an astonishing internal memo from 1966 on the topic of the Second Doctor, in which they define the characteristics of their newly-invented "renewed" alien star. Notable quotes include:
"His hair is wild and his clothes look rather the worse for wear (this is a legacy from the metaphysical change which took place in the TARDIS). Obviously spares very little time and bother on his appearance. In the first serial, he wears a fly-blown version of the clothes associated with this character.
"Manner. Vital and forceful – his actions are controlled by his superior intellect and experience – whereas at times he is a positive man of action, at other times he deals with the situation like a skilled chess player, reasoning and cunningly planning his moves. He has humor and wit and also an overwhelmingly thunderous rage which frightens his companions and others.
"A feature of the new Dr. Who will be the humor on the lines of the sardonic humor of Sherlock Holmes. He enjoys disconcerting his companions with unconventional and unexpected repartee."
And this amazing paragraph, which is still ripe with possibilities after 47 years: "The metaphysical change which takes place over 500 or so years is a horrifying experience – an experience in which he re-lives some of the most unendurable moments of his long life, including the galactic war. It is as if he has had the L.S.D. drug and instead of experiencing the kicks, he has the hell and dank horror which can be its effect."
In 1970, the Third Doctor arrived, with another Radio Times front cover (above), and a far greater confidence from the production team that the show would be able to weather the change. Although he wasn't the only new arrival that year:
Again the BBC Archive has come up trumps, unearthing some audience research conducted into "Spearhead from Space," the Third Doctor's first adventure. A choice quote being: "There was little additional comment on either acting or production but both appear to have been considered satisfactory and there was some comment to the effect that Jon Pertwee had made a most acceptable and satisfactory 'new' Dr. Who."
Four years later, and we're still not getting the kind of intense media interest in regenerations that will come later. Here's a TV interview with Tom Baker in 1974, filming "Revenge of the Cybermen," at the end of his first season behind the TARDIS console.
And here's some more of that audience research, this time assessing whether the Fourth Doctor would be an adequate replacement for the Third. By the time Tom elected to move on, in 1981, he had secured the longest and one of the most popular Doctor-ships of them all. He gave an interview to BBC's current affairs show Nationwide around this time, transcribed here, in which he unwittingly began one of the great regeneration debates of the entire show. When asked what kind of actor should take the role next, he replied, "Well you're making an assumption that it's going to be a man."
When it was announced that Peter Davison would take over the role, it made the national news, something that "staggered" the man himself, who told Radio Times, "I really had no idea that Doctor Who was so important. I bet some of my friends thought I'd died when they saw my picture."
News of his departure, in 1984, was no less seriously received than his arrival. (Watch video of his appearance on the U.K. morning show Breakfast TV after the announcement he was leaving.)
And this time TV chat shows could bring in the outgoing and incoming Doctors together for a chat. Here's Colin Baker, interviewed alongside Peter Davison later that same year, once his appointment had been announced:
And Colin's inaugural Radio Times interview was suitable effusive: "It is everybody's dream to play their hero, whether it is Lancelot or Biggles or Doctor Who, because they are characters in modern mythology. I always suspected it would be good fun. I feel almost as though this part was made for me, or I was made for this part."
And so was his coat.
Let's see, where are we up to? Oh yes, the Seventh Doctor. So, when Colin's tenure ended, it was as a result of a revamp of the whole show, after an 18-month hiatus. This meant there was less of a chummy handover when Sylvester McCoy was announced as his replacement in 1987. Not that you'd know this from Sylvester's first appearance, on the children's show Blue Peter:
Radio Times were pretty keen too. But the end of an era was nigh…
Episodes from previous episodes available on iTunes.
Coming soon: The Eighth Doctor and the modern era.
Read More
Filed Under: