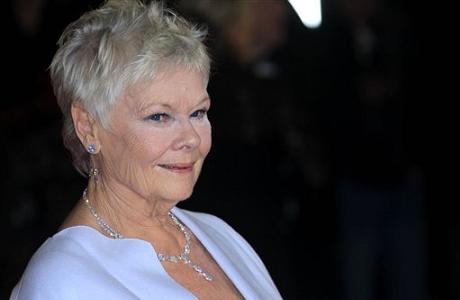 The BBC has announced that Dame Judi Dench and Dustin Hoffman are to take the lead roles in an adaptation of Roald Dahl's 1990 childrens' novella Esio Trot. The 90-minute film will be co-written by Richard Curtis, and begin filming in London next Spring for broadcast later in the year.
The recently-appointed controller of BBC One, Charlotte Moore, made the casting official at the Edinburgh TV Festival yesterday. "It's an honor to have Dame Judi Dench and Dustin Hoffman starring in this wonderful new adaptation. It's absolutely stellar casting for one of the nation's favorite children's classics."
One of Dahl's last works published prior to his death in 1990, Esio Trot is considered among the gentler of the legendary author's books, with little of the gleeful dark humor that characterized his more famous works such as Charlie and the Chocolate Factory and The Witches. The charming tale concerns a retired gentleman named Mr. Hoppy (Hoffman), who pines after his neighbor Mrs. Silver (Dench), and after learning of her wish for her beloved pet tortoise to grow larger, hatches a plan to win her affections.
The book is also one of the few of Dahl's classics not to have yet been adapted into live-action or animation though when it airs it will have beaten fellow holdouts The Twits and George's Marvellous Medicine to the screen. It may not be the last Dahl adaptation on the slate, either — as rumors persist that following the West End and Broadway success of the recent stage adaptation of Matilda, a movie version of the musical may yet be on the cards…
Read More
Filed Under: