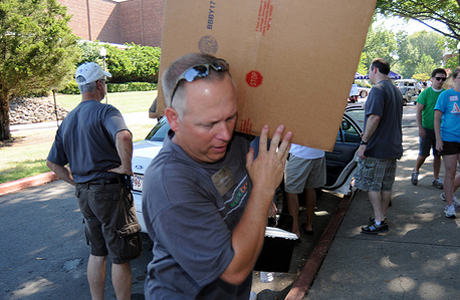 If you're a Brit whose child attends college in the U.S., you'll notice quite a few differences. As you'll have figured out, the education and application systems are completely different over here; I hate to tell you, but that's just the beginning.
Almost as soon as the student accepts a place at college here, we, the parents, are bombarded with "welcome" type letters. It's lovely that most (but not all) colleges are so interested in the parents, but the reality is that communication is usually from the "Development" office, which is another word for "fundraising."
On occasion, you'll get an invitation to breakfast, lunch or an evening event if the Development Officer is traveling around the country, (and they do). In most cases, you'll usually find yourself under pressure to open your wallet or sit on some board before you take your leave. To soften the blow, if you live and pay taxes in the States, your donations will usually be tax deductible.
Students typically have a 1-3 day orientation program to complete before they start their classes. Given that this happens in the summer between high school and college, students are understandably apprehensive and more and more parents are accompanying them to orientation. So, more and more colleges now have lectures, seminars and information sessions for parents, where you can learn all about what your child will be learning all about. International students typically don't have orientation until right before classes start, and many parents don't accompany their kids. In all cases, parents are welcome to orientation but not required or expected to attend.
The next window for parental involvement comes at move-in time. When I went three hundred miles away to university (a big distance in England), I got the train with my two suitcases, and my trunk of stuff arrived a couple of weeks later. My American husband loaded up his hand-me-down car, drove the four hundred miles to his college and saw his parents again at Thanksgiving. These days it's not unusual for parents to pack up the family minivan or SUV and drive cross-country to help their offspring move into his or her dorm. Although colleges now have move-in down to a fine art, it can still be a little overwhelming. This college even has a page of tips to reduce "Move-In Day Stress", including "Eat a good breakfast."
You often have to pre-book your move-in slot, meaning that any travel delays can lead to minor panics. On arrival, you can't just mosey on to your dorm room – there's registration and key pick-up before you're faced with your snowflake-in-hell's-chance of getting into the six-by-six elevator. When forty other kids are moving their stuff into the same multi-story building it's every man for himself. (If you can possibly move in a day or two early, it's worth it just to avoid the elevator stress.)
About six weeks after the term or semester starts, most colleges have parents' weekend (or family weekend.) This is a huge event and most freshmen parents pitch up for the festivities. (Parents of international students who don't live in the States usually don't attend.) There can be sessions and activities for younger siblings, street festivals, plays and musical showcases, sports events – you name it. As someone whose parents visited me at university once in the entire three years I was there, this came as quite a shock to me, and yet it was a thoroughly enjoyable experience. (Not sure I'll be doing parents' weekend for the entire four years, but it was nice to see how cramped and untidy my daughter's dorm room was.)
Given the influx of parents at orientation, move-in and parents' weekend, I urge you to live by the "Snooze, you lose" mantra when booking a hotel room. Most college web sites have links to nearby hotels and are often able to secure discounts on room pricing, but rooms are snapped up quickly, and of course, prices go up as the dates approach.
Oh yes, they may be gone but you're not allowed to forget.
For more information on college in the U.S.A., check out my new book, The Sress-free Guide to Studying in the States; A Step-by-Step Plan for International Students.
Read More
Filed Under: