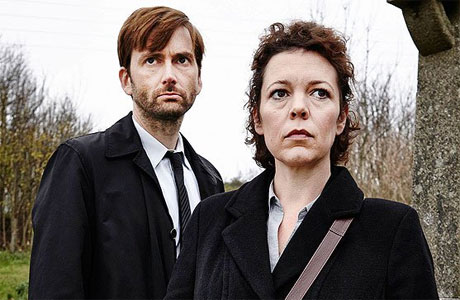 Rest assured, there aren't any clips of Broadchurch in this roundup, because we don't want a moment spoiled if we can help it, but if there were, they would only serve to further illustrate the astonishing transformation that has happened in Olivia Colman's acting career over the past couple of years.
She has always been a charismatic performer, from her early roles in sketch comedy and sitcoms, but it's her more recent dramatic outings, where she appears to be able to turn herself inside out for the benefit of the camera, that have really made the world sit up and take notice. That she is also available to play famous people like Carol Thatcher (in The Iron Lady), and Elizabeth the Queen Mother (in Hyde Park on Hudson), does not hurt either.
So, here's a record of that transformation. We start with the sketches and end with the awards. And there wasn't even enough room to include gems like Hot Fuzz, Le Donk & Scor-zay-zee, Exile, or The Robinsons.
This clip is from the 2000 sketch show Bruisers, featuring Olivia and David Mitchell (the show was also an early showcase for one Martin Freeman), check YouTube for sketches:
Then there was 2001's That Mitchell and Webb Situation, part of a long and fruitful collaboration between Olivia and her Cambridge chums David Mitchell and Robert Webb, spawning not only a …Situation, but also a …Sound, a …Look, and even a …Book :
And they all made the astonishing Peep Show, a masterpiece of point-of-view awkwardness:
Aside from that Mitchell and Webb Obligation, Olivia then joined the cast of the surreal (as in, it's surreally good) hospital comedy Green Wing…
…appeared in adverts for AA car insurance…
…and she turned up in the spoof '70s edutainment show Look Around You (notice David Mitchell has popped up again):
http://www.youtube.com/watch?v=1psx0rYm3Tk
And then, at some point around 2007, the out-and-out comedies started to become interspersed with heartwarming comic dramas, like Grow Your Own:
But at no sacrifice to her comedic talents, like 2008's Beautiful People:
Or 2010's Rev:
And, it being Anglophenia, we'd be remiss if we didn't mention Doctor Who, especially as she was effectively the baddy in Matt Smith's very first adventure, "The Eleventh Hour":
There are three performances that really kickstarted the Olivia Colman renaissance. First, Tyrannosaur, the harrowing tale of a charity shop worker caught between two angry men, which was written and directed by Paddy Considine. It won her the World Cinema Special Jury Prize for Breakout Performances at the 2011 Sundance film festival:
Then, in an echo of her previous role in Green Wing, and back in the comedy saddle, she played Sally, an overlooked secretary with phenomenal organisation skills and a hidden passion for Hugh Bonneville, in the Olympics comedy Twenty Twelve:
The point being she was now playing the put-upon straight man to HIS put-upon straight man, bringing more warmth and feeling than guffaws.
And finally, the BAFTA-winning Accused, in which she played Sue, a mother to a son murdered in gang violence:
Which lead to this, the best award-acceptance speech of ever:
From here on in, the world is her waffle-iron. There's still laughs to be had, but also serious drama and more movie roles, including a magnificently starchy turn as Elizabeth, the Queen Mother (before she was the Queen Mother) in Hyde Park on Hudson.
In the future we can expect to see her appearing in Locke, opposite Tom Hardy, Ben Daniels and Andrew Scott, The Thirteenth Tale, with Vanessa Redgrave and Sophie Turner and The Karmen Line, a short film of which IMDB has this wondrous description: "A mother is hit by a rare condition that sees her rise into the air at a slow but ever increasing rate."
Not unlike Olivia herself, in fact.
Broadchurch begins on BBCAMERICA at 10pm/9c on August 7
Read More
Filed Under: