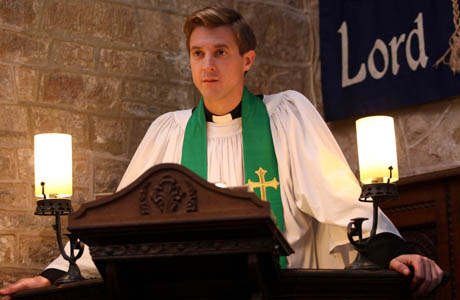 As Broadchurch, BBC America's 8-episode crime series, hit the halfway mark, the suspense only deepened. The list of suspects, both those that the police have on their radar and those that viewers know are possibly up to no good, grew longer in the murder of 11-year old Danny. It seems that many residents of Broadchurch, a small, coastal town in Dorset, have been concealing nasty secrets, which are only now seeing the light because of the investigation into the local boy's death by strangulation.
In the wee hours of the morning, a distressed Beth Latimer (Jodie Whittaker), the mother of the murdered child, meets with Detective Sergeant Ellie Miller (Olivia Colman), one of the two primary detectives on the case and a longtime family friend. Beth wants to know if Ellie thinks that Beth's husband, plumber Mark Latimer (Andrew Buchan), might have murdered their son. Ellie and her new boss, Detective Inspector Alec Hardy (David Tennant), had earlier been questioning Mark, after he lied about his whereabouts on the night of the murder. Mark claimed that he was off on a job when really he was shagging Becca Fisher (Simone McAullay), the attractive blond who runs the local B&B. Becca tells Ellie that she knows about her spouse and Becca.
The two women, who are sitting on a bench overlooking the beach, glimpse the Rev. Paul Coates (Arthur Darvill), a gangly local minister, standing off in the distance watching them. What's he doing out and about at this time of the morning?
Later that morning, Ellie and Alec are inspecting the burnt remains of a boat that went up in flames in the harbor the night before, a boat that may be connected to the death of Danny. A police investigator tells them that the fire was caused by arson, that it took at least two persons to set it aflame, and that several hairs have been discovered on the boat.
"Outstanding! Outstanding!," exults Alec. "They're starting to panic. They're amateurs. They're too clumsy. We're getting somewhere."
Ellie just looks at the normally dour Alec as if he's gone cuckoo for Cocoa Puffs.
Alec calls a town meeting to let Broadchurch's residents know what's going on with the investigation. A broad sampling of the citizenry turns out. Susan Wright (Pauline Quirke), the gruff, middle-aged housecleaner who seems to always be lurking about when the cops are investigating the case, asks Alec if it isn't true that he's short-staffed. Steve Connolly (Will Mellor), the creepy psychic who has told Beth that Danny spoke to him, perks up at the mention of the burned boat since he had told Alec and Ellie earlier that a boat was involved in the crime. Alec assures the townsfolk that the cops will find the killer. "We'll get there but every grain of sand has to be gone through," he says.
As the meeting ends, Karen White (Vicky McClure), the big city reporter who has descended on Broadchurch to cover the murder story, befriends Liz Roper (Susan Brown), who is Beth's mother and lives with the Latimers. "Just make sure you're getting the best advice," Karen tells her. "I'd hate for Danny to be ignored."
Outside the school, Ellie catches up with Susan. She asks the cleaning woman why she lied earlier, claiming that Mark Latimer had never done a plumbing repair job at the house on a cliff overlooking the murder site. Ellie tells Susan that Mark's story checks out. "Must have gotten it wrong," Susan says curtly.
Within minutes, Susan is angrily confronting Nigel Carter (Joe Sims), the bald-pated goofus who is Mark's colleague in his plumbing business. "We're connected now, you and me. You can't just turn your back. You might not like it, but it can't be undone. You and me need to work out what we're going to do," she sneers at him, doing her best Jimmy Cagney impression.
Nige looks rattled. " I ain't talking to you. You stay away!" he orders her.
Maggie Radcliffe (Carolyn Pickles), the editor of the local newspaper, and Olly Stevens (Jonathan Baily), her eager beaver junior reporter, visit with Ellie. Maggie asks Ellie please to tell the Latimers to come talk to her when they're ready. Then Olly gives Ellie, who's his aunt, a possibly big tip when he tells her that he has dug up information revealing that Jack Marshall (David Bradley), who runs the local news store and for whom Danny delivered papers, once was convicted of having sex with a minor.
Alec and Ellie call in Jack for questioning. They ask if he indeed has an earlier conviction for having sex with a minor. (We viewers still don't know if it was a boy or a girl who was his victim.) Jack bristles. "I am not a sex offender. I am not on any register," he says.
Alec says that's only because his conviction predates the creation of the sex offenders' registry. He asks Jack where he was on the night that Danny was murdered.
Jack says he was home alone reading Thomas Hardy's Jude the Obscure. "You might not like it," he needles Alec, "not many pictures."
Alec tells Jack that he knows that the older man is an amateur photographer. Did he, per chance, take pictures of the boys he supervised as the leader of the Sea Brigades, an organization that is the nautical equivalent of the Boy Scouts? Jack angrily accuses Alec of having a perverted mind. After Jack stomps out, Alec orders Ellie to movie Jack to the top of the suspect list.
Maggie, who earlier had given Karen the cold shoulder, invites her in to work from a spare desk at the local newspaper's office while she's in town. "Better to have you inside the tent pissing out rather than outside pissing in," Maggie tells her tartly, adding that she likes her coffee light, with no sugar.
Beth invites Alec and Ellie to her house to listen to Steve, the psychic who has been cozying up to the distraught mother. "Danny wants people to know he was killed by someone he knew," Steve tells the cops.
Alec is having none of it. He reveals to Beth that Steve has a record for vehicle theft and other crimes. Alec orders Steve to leave. An upset Steve climbs into his car and begins banging his head against the steering wheel.
Maggie approaches Susan at the harbor, where the housecleaner is selling tickets for some sort of boat tour. Maggie asks her about an old newspaper clipping she had been looking at earlier, which showed Susan, alongside Jack, at a Sea Brigades event. "You're Susan, or is it Elaine?" Maggie asks her, very much in investigative journalist mode.
Susan brushes her off. "You people must have gotten it wrong," she says.
Alec and Ellie meet with Rev. Paul who, in addition to his ministerial duties, worked with Danny and his classmates as an advisor to their school's technology club. He says that Danny, as well as Tom, who is Ellie's son, were both computer whizzes. (In the show's first episode, we saw Tom erase text messages on his phone and files from Danny on his computer after his friend's murder. At this point, we still have no idea what the messages or files contained.)
Alec asks his favorite question of the minister: what was he doing the night of Danny's murder? Rev. Paul says he was home alone trying to write a sermon and may have gone out walking. "I have terrible insomnia. Can't find anything to cure it. So I'm often up late wandering," he says. When Alec asks if he was out walking that specific night, Rev. Paul says he can't remember.
As Ellie and Alec leave the minister, who now is also on their suspects' list, Ellie says, "I hate what I'm becoming"
" A good detective?" says Alec.
"Hardened," she replies.
Karen has finagled a meeting with the Latimers in the guise helping them. "Eleven year old boys go missing all the time. If you want more focus on the case, it's going to have to come from you Beth," she says, all faux solicitous. She convinces Beth to give her an interview and pose for photographs. Karen promises she'll let the family see the story before it's printed. That and a £1 will get you a cup of coffee.
Alec, who has been invited, arrives at the Miller's house for dinner with Ellie and her husband, Joe (Matthew Gravelle). He's obviously uncomfortable and, in a bit of overkill, has brought wine, flowers and chocolates. Plus, he's wearing a suit. Seeing him, Ellie laughs and says, "We didn't get poshed up."
Joe has cooked Mexican food. We finally learn a little of his backstory: he used to be a paramedic but got fed up with the red tape involved with the job and now he looks after the couple's two children. Alec, too, fills in some gaps in his personal history. He's divorced and has a 15-year old daughter who lives with her mother.
"That must be hard," clucks Ellie.
When Ellie goes off to the loo, leaving the two men alone, they bond.
"Does she like me? Like working for me?" Alec asks.
"You're here for dinner, aren't you?" says Joe.
Rev. Paul is praying by himself. He asks God for "wisdom and courage in this darkest of moments." So, is he praying for himself or for the town?
Maggie is working late at the newspaper office when Susan sneaks in to confront her. "You're going to stop asking questions about me," Susan says.
"Why would I do that?" asks Maggie, pretending not to be scared.
Susan leans in close. "I know men who would rape you," she says threateningly and then walks away.
Alec walks home from the Millers to the B&B where he's staying. Susan is walking by with her dog and greets him. He nods but his vision is getting blurry. (It must be due to whatever that as yet undisclosed disease is that we know from earlier episodes he's suffering from.) When Alec gets inside his room, he grabs his pills but discovers that the bottle is empty. He passes out on the floor of his bathroom. (Was Susan in his room? Did she steal his pills?)
Alec wakes up in a hospital room. Britta, who runs the B&B, is there and tells him that she called an ambulance. Alec pleads with her not to tell anyone what happened. "I need to finish this case. It's my career. This is my life," he says cryptically.
Uh-oh. Karen has published her story, never showing it to the Latimers ahead of time. There's a big picture of Beth and Danny on the front page and a screaming headline, "Who would take my beautiful boy from me?"
Olly compliments Karen on her scoop. "Just think about the witnesses who might come forward," Karen says, as if she's the Mother Theresa of journalism. Olly then goes to visit his mother and finds repo men carting out her TV and other major possessions. "Mum!!!" he yells, storming into the house. (We find out nothing more about his mother's financial woes in this episode; it must be a set up for future developments.)
It's Sunday morning and Ellie and Alec are both in the office. He tells her, "I want full backgrounds on Jack, Steve and Paul. Anyone without an alibi goes to the top of our list."
Reacting to Karen's story, a scrum of noisy news photographers has planted itself in front of Rev. Paul's church. They scream, "Beth! Beth!" as the Latimers pass by on their way into the Sunday service. Ellie, who's headed inside as well, growls at the newshounds, "Have a bit of decency. Lenses down or I will kick you all in the balls."
Alec, too, shows up for the church service. Watching him slide into a pew, Joe says to Ellie, "I didn't know he was religious."
"I didn't know we were," she replies. (She'd earlier told Alec that she and Joe went to church only on major holidays.)
Actually, pretty much all of Broadchurch seems to have decided to get religion this Sunday morning. Jack is there as well, as is Britta, Nige and Susan. Rev. Paul offers reassurance in his sermon: "As a community, we have not been abandoned by God. We are not destroyed. Nor will we be," he says.
Following church, the Latimers have Ellie and Joe and their kids over to dinner, as well as Nige. Everyone is relaxed and actually having a good time, forgetting for a moment their grief and the unsolved murder. It doesn't last long.
Jack arrives at the Latimer's front door. He has Danny's mobile phone, which the cops have been looking for ever since the boy's murder. Jack claims he found it at the bottom of Danny's newspaper delivery bag. "Danny must have left it," Jack says. Ellie takes the phone.
Jack tells Beth and Mark, "They're going to be saying things about me and saying that I did it. I'm looking you in the eye and telling you I'm not that kind of man."
Alec, trying to get a step ahead of the media, calls a press conference for that night. He asks Beth and Mark to be there. As the couple walks out to meet with the press, Beth hisses to Mark, "I know about you and Becca Fisher." He looks gobsmacked.
Just before the press conference, Ellie pulls Alec aside to tell him that they've just learned that the hair found on the boat at the beginning of the episode matches Danny's. There's more: an earlier case has turned up, one from years ago, that has distinct similarities to Danny's murder. It took place in a town near to where Jack used to live before he moved to Broadchurch.
As Alec and the Latimers face the press, across town we see Jack burning photographs in a trashcan in his back yard. Before the flames lick at and obliterate the image, we see that one of the photos shows a shirtless Danny.
The final credits roll.
So, who's the killer? So many suspects yet so little actual information yet. Is it Jack? Susan? Nige? Creepy Steve? The Rev. Paul? Beth or Mark? Fans will just have to wait for the next episode in hopes of getting answers.
Read More
Filed Under: