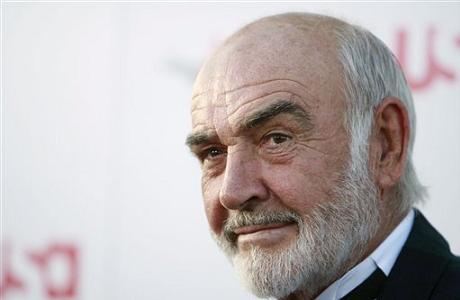 When it comes to birthdays, this week offers a bumper crop of famous Brits turning the page on yet another year.
Join us in wearing a party hat to salute Sir Sean Connery, the first and, still for many, best actor to ever introduce himself as, "Bond. James Bond."
The Scottish star, whose last screen appearance was a decade ago in The League of Extraordinary Gentleman (he has since done voice work), turns 83 next Sunday, Aug. 25.
He first donned Agent 007's tuxedo more than fifty years ago, in 1962's Dr. No. He subsequently played the role in six additional films in the British super spy series.
Besides that signature role, Connery had a robust career, starring in more than 50 films, including winning an Oscar for Best Supporting Actor for The Untouchables (1987).
These days, Connery lives in retirement with his longtime wife, painter Micheline Roquebrune, in the Bahamas.
Here's a clip of Connery accepting the American Film Institute's Lifetime Achievement Award in 2006:
Other Brits celebrating birthdays this week include:
Today, Aug. 19: Actor Jim Carter, who as Mr. Carson, the butler, looks after the welfare of Downton Abbey's residents both upstairs and down on the popular British TV series, turns 65.  In real life, the veteran character actor is wed to Oscar-nominated actress Imelda Staunton. In an interview earlier this year with Time, Carter said that he's glad he only plays a butler on TV: "I couldn't for the life of me do the job in real life. It wouldn't suit me at all, the routine, the rigidity of it all, having to hold your tongue."
Thursday, Aug. 22: Funnyman James Corden, who wrote and starred in the popular BBC sitcom, Gavin & Stacey (2007-10), turns 35. After wowing London and New York audiences in recent years in the stage comedy, One Man, Two Guvnors (for which he won a Tony as Best Actor last year), Corden next stars as popular British tenor Paul Potts in a bio pic, One Chance. (Potts was a winner on the TV competition show, Britain's Got Talent, in 2007.) The movie is scheduled to open later this year. His Hulu.com exclusive series, starring opposite friend and colleague Mathew Baynton, called The Wrong Mans, airs this fall.
Friday, Aug. 23: Ray Park, the 5 ft. 10 in., Scottish martial arts expert who played meanie Darth Maul in Star Wars: Episode I–The Phantom Menace (1999), must find the strength to blow out 39 candles. Fans will also remember him for his roles as Toad in X-Men (2000) and Edgar in the NBC series, Heroes.
Saturday, Aug. 24: Ginger-haired Rupert Grint, who grew up before moviegoers' eyes as Ron Weasley over the course of eight Harry Potter films, reaches the advanced age of 25. He will be making his stage debut in a revival of Mojo, a crime drama, on London's West End in October.
Sunday, Aug. 25: Fabulously talented and versatile musician Elvis Costello, whose output as a singer-songwriter-producer ranges from rock to jazz to soul to country, turns 59. His new album, Wise Up Ghost, in which he collaborates with the band, The Roots, will be released next month and a U.S. concert tour is planned for November.
Here's a preview video that Costello and The Roots released last month of a song called "Walk Us Uptown":
Whose birthday bash of those listed above would you most like to attend as a guest?
Read More
Filed Under: