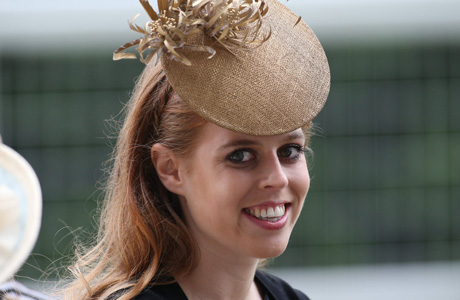 If fans of the British royal family and its newest member, baby Prince George, need a reminder that little royals grow up fast, they need look no further than Her Royal Highness Princess Beatrice Elizabeth Mary of York.
Princess Beatrice celebrates her 25th birthday this Thursday, Aug. 8. She's the daughter of the Duke and Duchess of York, the divorced couple better known as Prince Andrew and Sarah Ferguson.
The princess is now, following Prince George's birth, sixth in line for the British throne and the first female in the queue.
A graduate of the University of London who majored in history and history of ideas, Princess Beatrice has a full-time job in finance according to her proud papa's website.
In the British press, she is best known for her fondness for outré hats (the one she wore to the 2011 wedding of her cousin, Prince William, to Catherine Middleton, was described in the press as looking like a "loo seat") and her athleticism (she became the first royal to run the full London Marathon in 2010).
For her birthday, her mother and younger sister, Princess Eugenie, 23, have planned a party with a guest list that includes Beatrice's longtime beau, London businessman Dave Clark, as well as Prince Harry, actor Ashton Kutcher, Pippa Middleton and Sir Richard Branson. According to the Daily Mail, "Guests have been told to bring trainers as the agenda for the evening involves outdoor games, followed by a big dinner." (Trainers is Britspeak for sneakers.)
Here's a clip of Joan Rivers poking fun a Beatrice's wedding hat on E!'s Fashion Police in 2011:
Other Brits who'll be blowing out candles on birthday cakes this week:
Today, Aug. 5: Oscar-nominated actress Janet McTeer (Tumbleweed and Albert Nobbs) turns 52, just ahead of the Aug. 10 debut on the Starz network of her new TV series, The White Queen. The historical drama, about British royalty during the War of the Roses, has proved a ratings winner when it began airing on the BBC in the U.K. earlier this summer.
Tuesday, Aug. 6:  Geri Halliwell, aka Ginger Spice of the once popular Spice Girls singing group, reaches the advanced age of 41. She announced last month that she hoped to star in a TV sitcom inspired by her own life and released a teaser clip for the proposed series. In it, she is mock-horrified to discover that a new bedmate is sleeping his way through the Spice Girls. Take a look (warning: NSFW):
Wednesday, Aug. 7:  London-born twins Charlotte and Samantha Ronson celebrate turning 36.  The step-daughters of Foreigner guitarist Mick Jones, the duo have both found fame and success in their respective fields, Charlotte as a New York-based fashion designer and Samantha as a Los Angeles-based club and party d.j. (and former flame of actress Lindsay Lohan). Keeping it all in the family, Sam often acts as d.j. at Charlotte's fashion shows.
Thursday, Aug. 8:  U2 guitarist David Evans, better known as The Edge, rocks out his 52nd birthday. Though born in London to Welsh parents, he moved to Ireland as an infant and was a founding member of the blockbuster Irish rock band in 1978.  In 2011, Rolling Stone magazine ranked him No. 38 on its list of the 100 Greatest Guitarists of All Time.
Friday, Aug. 9: X-Files star Gillian Anderson, who was born in the U.S. but spent her early childhood in England and now lives primarily in the U.K., turns 45.  She is currently starring as a police detective in The Fall, a British crime series that airs on BBC in the U.K. and is available on Netflix in the U.S. At the most recent Comic Con in San Diego last month, she and X-Files co-star David Duchovny brought joy to the hearts of rabid fans when they said they'd both be open to making a third X-Files movie. Also celebrating a birthday on Aug. 9 is Kevin McKidd, the Scottish actor who has become a heartthrob stateside playing Dr. Owen Hunt on ABC's Grey's Anatomy. He reaches the big 4-0.
Saturday, Aug. 10: Ian Anderson, the Scottish rocker best known for his manic flute-playing as a member of Jethro Tull, turns 66. He is currently in the midst of a world concert tour during which he is performing the entire Thick as a Brick and Thick as a Brick 2 albums.  Here's Anderson in the promo video for the second album and tour:
Sunday, Aug. 11: Songwriter-singer Sandi Thom, a one-hit wonder whose single, "I Wish I Was a Punk Rocker (with Flowers in My Hair)," zoomed to No. 1 on the British charts after her appearance on BBC'sTop of the Pops show in 2006, turns 32. She recently finished a series of U.S. concert dates and next tours in Australia.  For a nostalgia flashback, here's her "Punk Rocker" video:
At whose birthday party of those listed above would you most want to be a guest?
Read More
Filed Under: