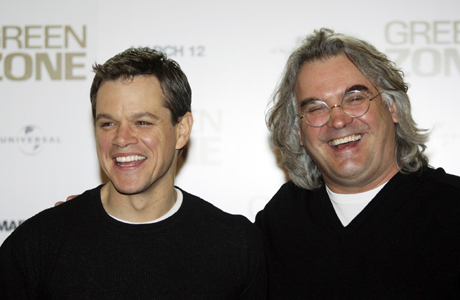 Director Paul Greengrass (The Bourne Ultimatum), a journalist turned filmmaker, got an early birthday present when the prestigious New York Film Festival announced late last month that his new movie, Captain Phillips, will debut as the festival's opening night movie on Sept. 27.
Greengrass, who was born in Surrey and graduated from Cambridge, turns 58 tomorrow (Aug. 13).
Captain Phillips, which is based on a true story, stars Oscar-winner Tom Hanks as Richard Phillips, the top officer on an American merchant ship that was hijacked by a gang of Somali pirates in 2009. The film, Greengrass' eighth feature, will open nationally in the U.S. on Oct. 11.
In an interview with the New York Film Festival, Greengrass said that his insistence on shooting much of Phillips on water proved particularly challenging. "That is traditionally rather a graveyard for directors. It brings all sorts of problems. But I wanted to shoot on water and in real ships," he said.
He elaborated saying, "That, of course, gives it a veracity, authenticity and, of course, a sense of excitement. It's brutal out there in any kind of swell and working in a small lifeboat being tossed around was really tough. Obviously some scenes we did inside, but a lot we did on the water and it was brutal."
Here's a trailer for the movie:
The drama has also been
selected
 as the opener for the British Film Institute's London Film Festival on Oct. 9, which will mark its European premiere.
Greengrass is best known for making two films in the Bourne series (The Bourne Supremacyand The Bourne Ultimatum) and Bloody Sunday (2002), a documentary-like drama about a civil rights protest in Northern Ireland that turned into a violent tragedy when British troops opened fire in 1972.
Other Brits celebrating birthdays this week include:
Today, Aug. 12: Cara Delevingne, the London-born model who has been the face of several recent Burberry campaigns, turns 21. She was named Model of the Year last year at the British Fashion Awards.
Wednesday, Aug. 14: Adrian Lester, the talented British actor currently earning rave reviews for his performance in the title role in Shakespeare's Othello at the National Theatre in London, celebrates his 45th birthday. The show, which is nearly sold out, runs through Oct. 5 and will be broadcast as part of the National Theatre Live series in movie theaters throughout the world on Sept. 28.
Thursday, Aug. 15: Anne, the Princess Royal, the only daughter of Queen Elizabeth II, turns 63. She is best known for her charitable work, her skill as an equestrian (she competed in the Olympics) and for her occasionally adversarial relationship with the press. (She memorably told newspaper photographers to "Naff off!" in the early 1980s.)
Friday, Aug. 16: Irish-born Evanna Lynch, the adolescent actress who played Luna Lovegood in four Harry Potter movies, marks her 22nd birthday. Although she'd never acted professionally before, she beat out some 15,000 other hopefuls for the coveted role. She is scheduled next month to begin playing the wife of Harry Houdini in a touring production in the U.K. of a play about the famous magician. Here's Lynch a year ago discussing working on the Potter films:
Saturday, Aug. 17: Another veteran of the Harry Potter movies, actress Helen McCrory, turns 45. She played evil Narcissa Malfoy in the last three films about the boy wizard. She also has twice portrayed Cherie Blair; she first appeared as the wife of former Prime Minister Tony Blair in the film, The Queen (2006), and again in The Special Relationship, a 2010 TV movie.
Sunday, Aug. 18: London-born Dennis Elliott, the original drummer for Foreigner, turns 63. The rock band, which released its first album in 1977, took its name because its members hailed from both sides of the Atlantic. Elliott, who is now a U.S. citizen, left the band in the early '90s and became a sculptor, working primarily in wood.
Whose birthday of those listed above would you most like to attend?
Read More
Filed Under: