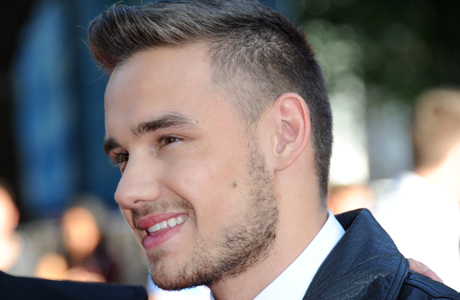 Liam Payne, one of the five cuties making up One Direction, the phenomenally popular Anglo-Irish boy band, celebrates his 20th birthday this Thurs., Aug. 29.
The timing couldn't be better. One Direction: This Is Us, a 3-D documentary that follows Payne and his bandmates on tour, tells how the 5-man musical group was formed (thank you, Simon Cowell!) and details the members' backgrounds, opens in U.K. that same day and in U.S. theaters on Aug. 30.
Payne, who was born in the mid-sized city of Wolverhampton in England's West Midlands, broke the hearts of teenyboppers everywhere last week when he announced that he was now keeping company with Sophia Smith, a former schoolmate. The two went public with their romance by holding hands as they headed into an after-party following the London premiere ofThis is Us.
Rather than being happy that Payne has found love, some jealous fans took to Twitter to rag on his new girlfriend. Payne promptly came to her defense: "Always sad to get on here to read horrible stuff about someone you care about. There is that old saying tho if you ain't got s**t nice to say then f**k you," he tweeted.
Other Brits with birthdays this week include:
Today, Aug. 26:  Shirley Manson, the flame-haired Scottish singer and actress who scored major hits in the mid-90s with the nihilistic anthem, "Happy When it Rains," and "Stupid Girl," turns 47.  In addition to serving as the lead singer for the band, Garbage, she is known for her role in the TV series, Terminator: The Sarah Connor Chronicles.
Here's Connor singing "Happy When It Rains":
Tuesday, Aug. 27: "Downtown" Julie Brown
, the British-born infotainment personality who was an early VJ on MTV, marks her 54
th
 birthday. As the energetic host on the music video channel's daily 
Club MTV
 dance show in the late '80s, she introduced acts and modeled outré looks that were then considered the height of cool. Here she gets all 
Boy George
 in a vintage clip:
Wednesday, Aug. 28: Soap star Emma Samms, the London-born actress who has played long-suffering Holly Sutton on ABC's General Hospital off-and-on since 1982, turns 53. She returned to the always steamy goings-on in fictional Port Charles for a brief reprise of her role this month.
Thursday, Aug. 29: Richard Attenborough, the actor turned director who won Oscars for Best Director and Best Picture for the biopic, Gandhi (1982), makes it to 90. He was made a Commander of the of the Order of the British Empire in 1967, knighted in 1976 and given a life peerage–he's now Baron Attenborough, of Richmond upon Thames–in 1993.
Friday, Aug. 30: Actress Angela Coulby, best known for her portrayal of Queen Guinevere on BBC America's Merlin, celebrates her 33rd birthday. Stateside viewers can next see the London-born actress shimmying as a 1930s singer in Dancing on the Edge, a limited-run BBC series about the rise of a black jazz band in England; it begins airing on the Starz network in October.
Saturday, Aug. 31: Brown-eyed girls and music fans everywhere should be wishing a happy birthday to Van Morrison. The Northern Irish-born singer turns 68. His most recent album, Born to Sing: No Plan B, was released last year. Here, an extremely uncomfortable-looking Morrison lip-synchs to "Brown-eyed Girl" on the classic pop hits show, American Bandstand, in 1967:
Sunday, Sept. 1: Secretly British Scott Speedman, a heartthrob since his days playing Ben Covington on in the TV series Felicity, turns 38.  Speedman was born in London but moved with his family to Canada, where he was raised, as a youngster. He most recently starred in last season's canceled TV series, Last Resort.
Whose birthday party of those listed above would you most like to attend?
Read More
Filed Under: