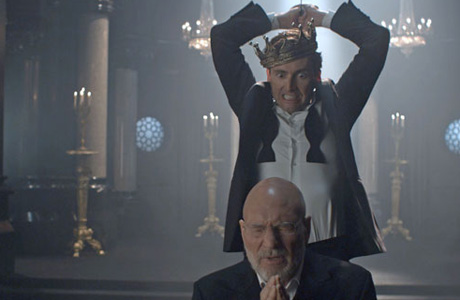 Do you enjoy Shakespeare but don't really have the time to sit down and deconstruct one of his plays? Well, you're in luck, since the beginning of motion pictures, his work has been adapted into film and TV productions like these youthful and offbeat movie adaptations. Let's take a peek at the more traditional interpretations currently streaming online:
1. Hamlet
David Tennant and Sir Patrick Stewart tackle Shakespeare's Hamlet in modern-dress in the made-for-television film adaptation of the Royal Shakespeare Company's 2008 production. Hamlet (Tennant) seeks vengeance for his father's death after his widowed mother marries the killer. Stewart plays Hamlet's uncle Claudius.
2. Romeo and Juliet
This 1968 classic brings to life the love of the "star cross'd lovers" Romeo (Leonard Whiting) and Juliet (Olivia Hussey) who can't be together because of the drama between the elders in their families. Shakespeare describes the feud in the prologue writing, "Where civil blood makes civil hands unclean."
Watch Romeo and Juliet via Amazon Instant Video.
3. Taming of the Shrew
In the 1967 production, Elizabeth Taylor stars as the spirited Katherina whose father is desperate to get her married off. Her new husband Petruchio (Richard Burton) is not keen on her feisty ways and takes it upon himself to transform her into an acceptable wife, taking it so far that she agrees with him that "the sun is the moon."
Watch Taming of the Shrew via Amazon Instant Video.
4. Much Ado About Nothing
Kenneth Branagh stars in the 1993 production as Benedick who is happy being a singleton. His pals Hero (Kate Beckinsale) and Claudio (Robert Sean Leonard) are in love with each other and plan to marry. They conspire together to match up Benedick with his sparring partner Beatrice (Emma Thompson). They simply want him to be happy in love like they are … like it or not.
Watch Much Ado About Nothing via Amazon Instant Video.
5. All's Well That End's Well
The 1981 production introduces us to Helena (Angela Down) who is in love with Bertram (Ian Charleson) but they are of different social classes. She pines for him, suffering the burden of unrequited love. Helena is not sure if she should reveal her feelings or keep them tucked away where they are safe. Helena uses her wits in an attempt to get around this conundrum.
Watch All's Well That End's Well via Amazon Instant Video.
What's on your playlist? 
Read More
Filed Under: