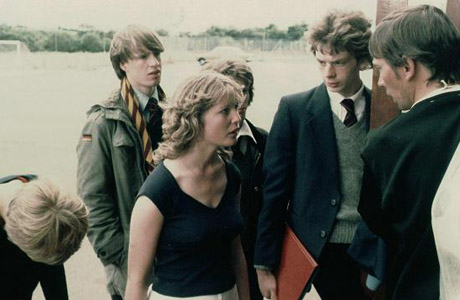 As you may have heard, Scotsman Peter Capaldi has been cast as the Twelfth Doctor on Doctor Who. Let's give him a proper welcome by celebrating some outstanding films and TV programs set in Scotland. Take a peek at some uniquely Scottish productions you can view online below:
1. Gregory's Girl
In this BAFTA winning film for screenplay, John Gordon Sinclair portrays Gregory, a typical teenage boy growing up in the Abronhill district of Cumbernauld near Glasgow, Scotland. He and his friends are awkwardly charming but pretty hopeless when it comes to the opposite sex. Gregory finds himself in a tough spot when he is asked to take a week off from the school's winless soccer team so the coach can try out some new talent. When he learns he's being replaced by a girl (Dee Hepburn), he's not even upset but instead totally smitten.
2. Monarch of the Glen
In this television series, aspiring London restaurateur Archie MacDonald (Alastair Mackenzie) is duped by his mother (Susan Hampshire) into returning home to Glenbogle, Scotland to aid his ailing father (Richard Briers). Upon returning, he learns his father is not dying, which is a relief of course but he now faces the real problem, reluctantly agreeing to take over the family estate and castle, which face financial ruin.
https://www.youtube.com/watch?v=UDkIb0XqrdY
Watch Series 1-6 of Monarch of the Glen on Netflix.
3. Trainspotting
Danny Boyle's film follows Renton (Ewan McGregor) and his friends – Sick Boy (Jonny Lee Miller), Spud (Ewen Bremner), Begbie (Robert Carlyle) – as they hustle their way through Edinburgh, Scotland looking for the next fix and an escape from a standstill life all the while avoiding 9-to-5 jobs.
Watch Trainspotting on Netflix
4. Highlander
Connor "The Highlander" MacLeod (Christopher Lambert) is an immortal warrior, born in the Highlands of Scotland in the 16th century. His kinsman realize he is different and banish him from the village. He finds himself in modern day NYC where he battles it out with the few remaining immortals because "in the end, there can be only one." He is guided through his quest by Juan Sanchez Villa-Lobos Ramirez (Sean Connery).
5. My Life So Far
Based on the memoirs of Sir John Denis Forman, a Scottish executive in the British TV industry, this story follows the lives of a most unusual family as seen through the eyes of Fraser Pettigrew (Robert Norman), following the end of WWI on their Scotland estate. Pettigrew is intrigued by grown up life and wants to try out things for himself, you know, like drinking milk from a wine glass. Colin Firth plays young Fraser's father, Edward Pettigrew.
Watch My Life So Far on Netflix.
What's on your playlist?
Read More
Filed Under: