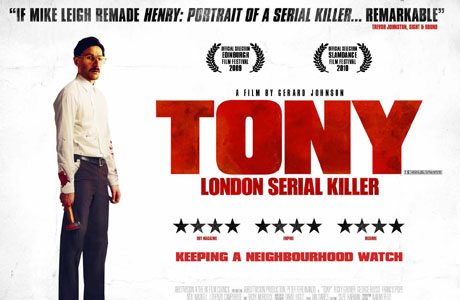 People are oddly fascinated by serial killers with many books, films and TV series being based on true and fictionalized stories like the BBC2's highly-rated The Fall starring London-based Gillian Anderson (streaming on Netflix). You can Brit Binge on these film and TV thrillers from the safety of your own home:
1. Tony
Tony Benson (Peter Ferdinando) has been unemployed and living on state benefits for over 20 years. He's awkward and extremely lonely but struggles to connect with people. His first kills were unplanned and out of pure annoyance. He soon starts killing people who simply refuse his advances. He disposes of most of the bodies but some he saves to prop up and sit on the couch with him to watch a bit of telly. All he really needs is a cuddle.
2. Sweeney Todd the Demon Barber of Fleet Street
After a clean shave, barber Sweeney Todd (Tod Slaughter) pulls a lever, which throttles his patrons backward down a shaft leading to the basement in the 1936 film. (Please note, neither Johnny Depp or Helena Bonham Carter will be appearing in this flick.) The men either break their neck on impact or Todd tidies up the deed by slitting their throat. He robs them of their money and his partner-in-crime Mrs. Lovatt (Stella Rho) helps dispose of the bodies by butchering them and serving them up as savory treats in her pie shop.
Watch Sweeney Todd on Hulu.com.
3. Blitz
Detective Sergeant Tom Brant (Jason Statham) is hot headed, violent and recovering from addiction. While he tries to work out his issues with a therapist, a brazen cop killer (Aidan Gillen) is on the loose and has the nerve to call the station and announce his plans. Brant may be the best guy to search out this killer, he has nothing to lose. The film also stars Paddy Considine and David Morrissey.
4. From Hell
Whitechapel Police Inspector Frederick (Johnny Depp) is on the heels of a serial killer who is plucking prostitutes off the street and leaving them for dead. Frederick is drawn into the case, suspecting the killer is an educated person and has the skills of a surgeon. He soon realizes that this is bigger and more diabolical than just him and the killer.
Watch From Hell on Amazon.com Instant.
5. Luther
Detective Chief Inspector John Luther (Idris Elba) suspects Henry Madsen (Anton Saunders) to be a pedophile and serial killer. Luther chases him into a factory where Madsen finds himself cornered on a walkway, slips and falls. He is dangling by his fingertips and calls to Luther for help. Luther is a police inspector, but a troubled one, and finds himself torn. Scarily, his closest confidant is suspected murderer Alice Morgan (Ruth Wilson).
Watch Series 1 and 2 of Luther on Netflix.
What's on your playlist? 
Read More
Filed Under: