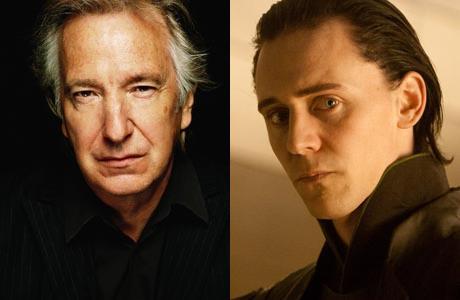 The Anglo Fan Favorites Tournament is nearing the end. Former champions Alan Rickman and Tom Hiddleston knocked out frontrunners like Benedict Cumberbatch, Matt Smith and Sir Ian McKellen. Let's takes a peek at some of Rickman and Hiddleston's performances which may have landed them in this year's tournament finals. Here are three films from each, which you can watch online:
Alan Rickman
1. Die Hard
Rickman plays opposite Bruce Willis in 1998's Die Hard as baddie Hans Gruber who holds a skyscraper full of people hostage with the plan to pull a heist.
Watch Die Hard on Amazon Instant Video.
2. Love Actually
In the 2003 multi-storied romantic comedy Rickman plays a family man who faces office tempations. He is quite affectionate but unfortunately it is with his young assistant and not his wife who is happily married to him.
Watch Love Actually on Amazon Instant Video.
3. Bottle Shock
In 2008's biographical story, Rickman portrays the real-life wine expert Steven Spurrier, a British expat living in Paris, France, who heads to Napa Valley, CA in 1976 to recruit contestants for a wine competition.
Watch Bottle Shock on Netflix.
Tom Hiddleston
1. The Deep Blue Sea
Hiddleston performs opposite Rachel Weisz in this 2011 adaptation of the 1952 Terence Rattigan play. Weisz plays the suicidal wife of High Court judge, and Hiddleston plays her troubled lover, a former RAF pilot, with whom she is having an adulterous affair.
Watch The Deep Blue Sea on Netflix.
2. Midnight in Paris
Hiddleston portrays American author F. Scott Fitzgerald in Woody Allen's 2011 film which follows Owen Wilson's character as he steps back in time when taking midnight strolls in Paris.
Watch Midnight in Paris on Amazon Instant Video.
3. The Avengers
Joss Whedon's 2012 The Avengers brings together Marvel's superheroes Iron Man (Robert Downey Jr.), Captain America (Chris Evans), The Hulk (Mark Ruffalo) and Thor (Chris Hemsworth) to take down the supervillain Loki, Thor's adopted brother, played by Hiddleston.


Watch The Avengers on Netflix.
What's on your playlist?
Read More
Filed Under: