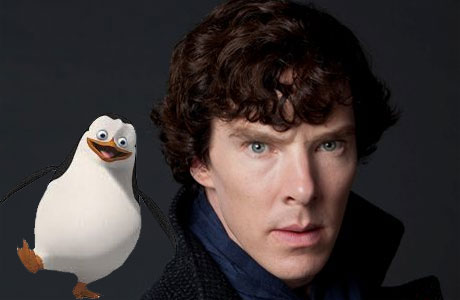 Hey, just because exciting things are happening in the world of Doctor Who, that doesn't mean that the rest of the world has stopped, y'know? I mean the sun still comes up in the morning, the rain still falls, big fish still eat little fish, and Benedict Cumberbatch continues to accept offers of paid work.
So, despite a schedule that would give a busy bee RSI, news of further additions to the Cumberbatch portfolio – a thick, leather-bound parchment tome, with "Benefit Comfypatch" written on the front in gold leaf – continues to filter through.
Only today, it emerged that he's lending his considerable vocal talents to a new movie from the Madagascar franchise. The Penguins of Madagascar – a dizzying spin-off of the DVD-only movie spin-off of the comic book spin-off of the spin-off Nickelodeon TV show – also features John Malkovitch, who plays the baddy.
Benedict is an animal CIA agent, hot on his trail. It's not clear if that means he's a human member of the animal CIA, or an animal in the CIA, but these are the kind of details that can be easily established at a later date.
For now, all we need to know is that The Penguins of Madagascar has already been scheduled for release on March 27, 2015. By which time Benedict will have started (and finished) volume nine of that portfolio, and be King of the Moon.
Read More
Filed Under: