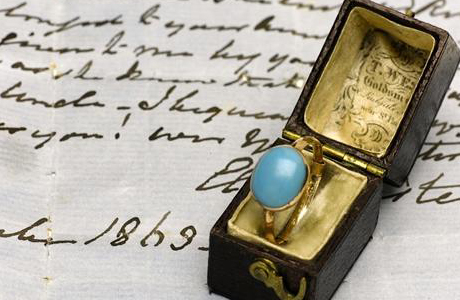 An anonymous donation of £100K has been made to the Jane Austen's House museum in hopes of keeping a gold and turquoise ring, once owned by the famous author Jane Austen, in the UK.
The ring was up for auction at Sotheby's in 2012 but the museum was outbid by American singer Kelly Clarkson, of American Idol fame. Even though she made the successful bid Clarkson wasn't able to leave the country with the piece of jewelry.
Culture minister Ed Vaizey stepped in, putting a temporary export ban on the prized piece, reports BBC News. The ring is one of only three pieces of jewelry known to have belonged to the Pride and Prejudice author. The other two pieces currently reside at the museum.
Vaizey's appeal for UK buyers to come forward apparently has worked with an anonymous donation to the museum for £100K. The entire amount needed is £152,450 but the museum believes it has raised funds to "show a serious expression of interest to buy the ring."
The museum was represented at the original auction by fundraiser Louise West, with her recently telling the BBC, "We knew it was going to go for much more than we could raise in the short space of time."
The export ban gave the museum some breathing room and a second chance to hold on to a piece of history.
"We thought it would be a lot harder to reach the £100,000 mark, so it was an amazing surprise," said West.
They are close to matching the hefty price tag but even so West does have empathy for Clarkson saying, "We do think the museum would be a very suitable home for the ring, but we do also feel sorry for Kelly Clarkson. We have attempted to contact her and would hope we can establish some sort of relationship with her in the future."
Austen died in 1817, at age 41, leaving the ring to her sister Cassandra. It has been in the family up until the recent sale.
Do you think the ring belongs in England? 
Read More
Filed Under: