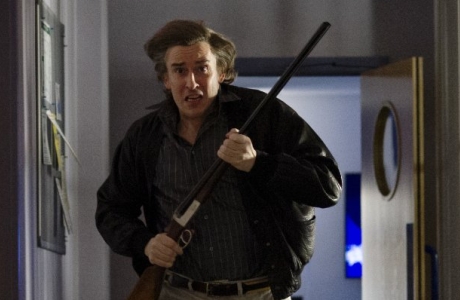 When the title of the long-awaited movie debut of Britain's favorite fictional talk show host turned radio DJ Alan Partridge (alias actor Steve Coogan) was announced, it left fans baffled — but Alpha Papa (chosen, according to the first teaser trailer, as the phonetic pronunciation of Alan's initials and as it means "Top Daddy") has proven to be a good omen after all, as the film took £2.17 million ($3.35 million) over its extended opening weekend, making it the top entry at the U.K. box office for the period of August 7-11.
Partridge first appeared in the Radio 4 comedy satire On the Hour in 1991, before making the leap to television with On the Hour in 1993, and then "hosting" his own talk show Knowing Me, Knowing You With Alan Partridge in 1994. The subsequent sitcom I'm Alan Partridge told the story of Alan's fall from grace to presenting local radio in provincial East Anglia. Rumors about a movie version have popped up several times over the last decade, but it was after the success of the character's autobiography I, Partridge: We Need To Talk About Alan in 2011 that the film finally went into production.
Alan — who, we can't stress enough, is a fictional character — has nevertheless released a statement about the film's early box office success. "Now is not a time for gloating or celebration, more a time for healing old wounds, a time to say 'let us join together in thanks that I am number one at the box office'. Hallelujah."
When the Wednesday and Thursday preview sales are taken out of the equation, however, it should be noted that Alpha Papa drops to third place in the chart – as, on Friday through Sunday sales alone, it's Adam Sandler's Grown-Ups 2 that proved the U.K.'s most popular film. Nevertheless, the success of the Partridge film is something of a vindication after even some of those involved in making it saw the jump to the big screen as a potential gamble.
The film, which also stars Colm Meaney and Sean Pertwee, doesn't yet have a U.S. release date, but hopefully its early success at home will increase the chances of it getting one. In the meantime, you can get a taste of it from the official trailer:
Read More
Filed Under: