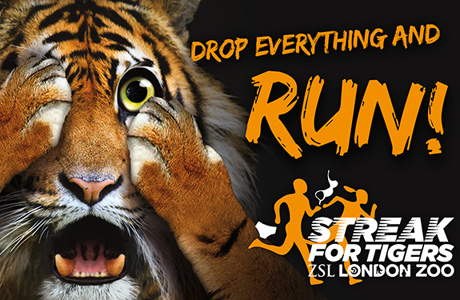 In an attempt to raise funds and awareness for the rare subspecies, the Sumatran Tiger, of which only 300 remain, 300 runners stripped down to take part in the London Zoo's Streak for Tigers on Thursday, August 15, 2013.
The ZSL (Zoological Society of London) London Zoo's call to action comes across as a playful "dare" reading: "It's time to unleash your wild side and show us your stripes in support of the ZSL Sumatran Tiger campaign. Have you got what it takes to take on the ultimate challenge of streaking for tigers!?"
The zoo includes a fun fact, that a group of tigers is actually called a "Streak of Tigers" … it all makes sense now.
Some participants ran in the buff, with others adding painted stripes in solidarity for their feline friends, around the 300 meter course to cheering supporters.
The entry fee was £20 for each participant and each was asked to raise £150 from supporters, with the event raising £70,000 so far and still going. Each fundraising pack came with a pair of fabric tiger ears.
All you need to bring is a big smile and your tiger ears … stripes are optional: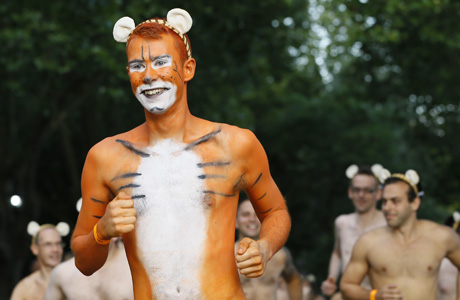 DJ Rich Clarke caught a snap of the start:
So this is happening #StreakForTigers pic.twitter.com/zL9I7GNpis

— Rich Clarke (@richclarke) August 15, 2013
The director of the zoo chimed in:
Last night I got 300 naked people to roar at me. #StreakForTigers #NotADream

— James Wren (@jimwren) August 16, 2013
Some runners really got into the spirit:
Last night, this guy really got into the tiger swing of things #StreakforTigers pic.twitter.com/Mbfkjk7Any

— ZSL London Zoo (@zsllondonzoo) August 16, 2013
As of last night the amount raised was £40,000 … and it is still growing:
So far, #StreakforTigers has raised over £70,000 and its all thanks to people like these colourful fellows pic.twitter.com/X6xF4wB6z1

— ZSL London Zoo (@zsllondonzoo) August 16, 2013
If you'd like to read more fun tweets, take part in the conversation or make a donation (it's not too late) then you can go to the #StreakforTigers or the London Zoo's website.
There are plenty of more pictures with runners in their birthday suits, bums and all, you can take a cheeky peek by going here.
Would you run naked in public to support a cause you care about?
Read More
Filed Under: