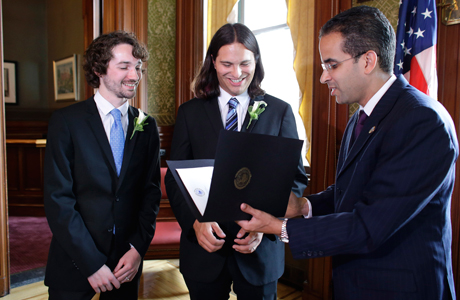 For gay people living in the United States, marriage equality once seemed like a far-off dream. But then, this June, the U.S. Supreme Court struck down the Defense of Marriage Act, paving the way for same-sex couples to have their nuptials recognized by federal law. It was immediately clear that the decision would not only alter the lives of many Americans, but also affect a great number of non-Americans as well, including Brits.
"It's really simple," says Bernard Sidman, a British-born, Los Angeles-based immigration lawyer. "If you're gay and you're British and you marry your American partner then you can get a green card. That's it in a nutshell. DOMA going away has given same-sex marriages precisely the same status as straight marriages."
Before DOMA was overturned, many Americans and Brits in same-sex marriages were forced to live apart much of the time, with the non-American spouse only able to enter the U.S. on a short-term tourist visa. There was no mechanism to have those partnerships, though legally recognized in some U.S. states, acknowledged federally, and no way for non-American spouses to apply for temporary residency — or even a more permanent visa.
Now, so long as couples marry in a country or U.S. state where gay marriage is legal, it will be recognized by the U.S., says Sidman. Brits in particular should pay close attention to this stipulation. Although a law was passed in Parliament earlier this year legalizing "proper" gay marriage (as opposed to civil partnership) in England and Wales, it doesn't actually come into force until mid-2014. One effect of this delay is that gay unions conducted in the U.K. prior to this date won't be recognized in the U.S.
"When civil partnership law was brought in in Britain, the government made clear they were not marriages," says Sidman. However, the new law includes a clause that will allow couples in civil partnerships to convert their status to "married" — and this will be recognized in the U.S. But for now, says Sidman, "anyone who wants to take advantage of [the repeal of DOMA] needs to get married in a country where gay marriage is legal, like the Netherlands."
So will the green card process for a foreign gay person married to an American be trickier than if he or she was straight? "I have no reason to think it'll be much different," says Sidman. "When you do a marriage interview [with the U.S. Department of Immigration] you establish the bona fides of the marriage. You establish that the non-American is eligible for a green card — that they don't have a criminal record, for instance. It's all very routine stuff. They've got to follow the rules. Immigration has been very clear about this."
But how does Sidman think this will play out in reality? "I don't know how the interviewers are going to handle it because some of them are very conservative. I'm in L.A., and in L.A., it's probably a bit more tolerant than other parts of the United States. For the interviews taking place in Nashville or Kansas City — who knows? But this is the law now."
Read More
Filed Under: