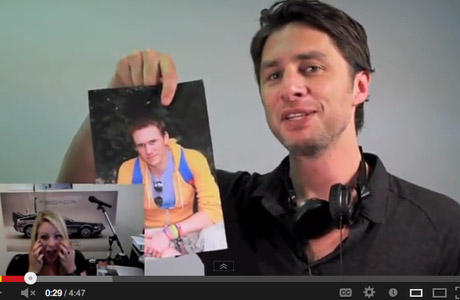 A British fan, Matt Hulbert, reached out to American actor Zach Braff (Scrubs) asking if he could introduce a video to Hulbert's girlfriend where he proposes to her. Braff must have a lot of time on his hands or he's just a good guy because he agreed to do it. Guess we'll go with the latter. The two men met online when Hulbert made a contribution to Braff's Kickstarter campaign for an upcoming project, Wish I Was Here. Hulbert explains why he sought out Braff to handle one of the biggest events in his life, saying, "Like me, Janice (his girlfriend) is a huge fan of Scrubs so I knew it would blow her away." Hulbert wrote and sung the song in the video. Did she say yes? Find out below:
One Direction helped out this American fan propose to his lady … well kind of:
This Brit didn't go the path of recruiting a celebrity but his proposal is just as thoughtful and original:
McFly frontman Tom Fletcher's girl already said yes. He put his wedding speech into the form of a song:
And, sadly, the girl doesn't always say yes. This poor guy is shot down but it's a part of the BBC1 gag show, Just for Laughs:
Do you have a fun proposal story?
Read More
Filed Under: