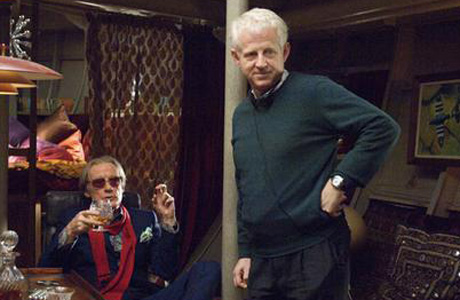 Writer-director Richard Curtis, the man behind screen favorites like Love Actually, Bridget Jones's Diary, Four Weddings and a Funeral and Pirate Radio (just to name a few) is debating retiring from directing. His next film About Time, may be his last.
The sci-fi romantic comedy About Time follows a young man, 21, played by Irish actor Domhnall Gleeson, who realizes he can time travel and relive any moment. With the help of his father (Bill Nighy) he attempts to get things right this time around with the end goal of finding love (Rachel McAdams). Basically he gets a "do-over" on really awkward situations like splattering sunscreen on a bikini clad girl's back. It's set to hit theaters on November 1 in the U.S. and August 8 in the UK.
Curtis, 56, talked to Empire Magazine, saying, "I waited a while in order to write (About Time). This probably will be the last film I will direct."
Dramatic pause. We'll give you a minute to let this soak in. … Alright, you okay?
He was asked to elaborate and he simply stated, "I don't know. Just a feeling … just a feeling. It feels like a summing up to me. We'll see how things turn out."
About Time is the third film he's directed in addition to Love Actually and The Boat That Rocked. Not to pick apart his words but he talked about taking a break from directing but did not mention writing. That gives us something to hold on to, at least for a little while.
Check out the trailer for About Time here:
In addition to the films listed above, Curtis's writing credits also include TV's Blackadder, co-created with Rowan Atkinson; Mr. Bean, also co-created with Rowan Atkinson; The Vicar of Dibley, co-created with Paul Mayhew-Archer and the 2010 Doctor Who episode, "Vincent and the Doctor". You can find his complete filmography here.
Would you be upset if he retired completely?
Read More
Filed Under: