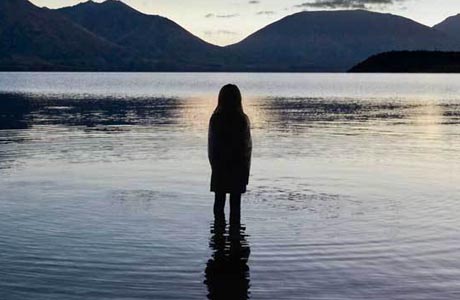 A 12-year-old pregnant girl is missing and nobody seems to be care.
What's on: Top of the Lake (2013 Emmy Nominated)
What is it: BBC2, UKTV in Australia/NZ and the Sundance Channel in the U.S. have co-produced Jane Campion and Gerard Lee's 7-part miniseries revolving around a missing 12-year-old pregnant girl in the remote town of Laketop, New Zealand. The male-dominated society is not too concerned with her whereabouts considering women, and girls, are expected to be at home. Mad Men's Elisabeth Moss portrays police inspector Robin Griffin making her return from Sydney to visit her mother. It's not her assignment but she can't stop herself from getting involved. American actress Holly Hunter (The Piano, also directed by Jane Campion) plays the hippy-like outsider GJ who is in town leading a new age women's retreat. Her emotionless surety and lack of confusion is reassuring to Griffin.
Air-date: July 13, 2013 – present on BBC2
Who's watching: 2.7 million Brits
Why so popular: Within the first ten minutes of the series we meet a 12-year-old girl who is pregnant. She in herself is a crime scene. The story explores multiple, heartbreaking at times, themes that go beyond the mystery genre dealing with misogyny, basic rights and life in a simplistic yet disconnected society. Top of the Lake has a passion and urgency that propels the characters and narrative, keeping up the momentum from scene-to-scene.
American counterpart: Pretty much any television series revolving around a missing girl is compared to Twin Peaks. Since that's the case, we'll suggest the feature length film Jindabyne, starring Laura Linney and Irish actor Gabriel Byrne, where a girl's body is found in the river during a fishing trip. The men continue fishing before making the long trek back to town to report the dead girl who turns out to be Aboriginal, causing a divide in the community.
Top of the Lake recently received eight Emmy nominations including but not limited to Lead Actress in a Miniseries or Movie for Moss, Supporting Actor for Peter Mullan, Outstanding Miniseries or Movie, and nods for writing, directing, casting, editing, and cinematography.
The entire series is available on iTunes. The Sundance Channel will air a marathon on Sunday, July 28 beginning at 1PM ET.
You can watch the trailer here:
HBO's writer and star of Girls, Lena Dunham, took to her Twitter feed giving the show a shout out:
Jane Campion's Top of The Lake is the best thing on television. Confused that a show about an abducted pregnant child is my safe space.

— Lena Dunham (@lenadunham) March 26, 2013
It's not all "doom and gloom" according to this Twitter fan (phew):
The Sopranos, Breaking Bad, Deadwood, The Wire and Top of the Lake: all full of humor, in various styles, when you re-watch them.

— emilynussbaum (@emilynussbaum) July 21, 2013
You know something is up when the British Embassy is tweeting about the show:
Miniseries Top of the Lake, produced jointly by the @BBC, received 8 #emmy nominations. #Creativity is @GREATBritain!

— British Embassy (@UKinUSA) July 19, 2013

Grace Dent, writer for The Independent, sums it up saying, "[Top of the Lake] won my heart as a 'TV Pick of 2013' in under 10 minutes."
Just a friendly reminder, you can watch Top of the Lake on iTunes or Sundance Channel, July 28 at 1pm ET.
Watch it (if you haven't already) and report back to us! 
Read More
Filed Under: