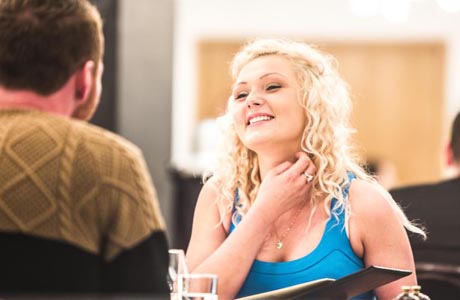 Channel 4 is helping single people sort through the masses.
What's on: First Dates
What is it: Every Saturday, for six weeks this summer, Paternoster Chop House will close its doors to the public. It's not closing completely though: it will be filled with hopeful singles on first dates. The couples run the gamut from twentysomethings sizing each other up to silver foxes in their sixties looking for travel partners.
Air-date: June 20, 2013 on Channel 4
Who's watching: 1.13 million Brits
Why so popular: Everyone is looking for love. And, if you are already settled down, you're probably looking on behalf of your single mates. This isn't your typical dating show: the setting seems very natural and conducive to getting to know someone with discreet Big Brother-style cameras. For the most part, the couples sit down to dinner, have a chat and see how it goes. Afterward each person does an interview with a producer to recap how it went. It's then up to them where they go from there. Some set up a proper second date, drink the night away or just flat out run away.
American counterpart: Bravo's Millionaire Matchmaker matches up two people on an awesomely over-the-top awkward date.
Get to know some of the singles with the trailer:

Preview the first ten minutes of Episode One:

This student uses First Dates as a "reward" for studying:
Quick break from studying muscles to catch up on last nights @C4FirstDates. 5 mins in. Good grief. Goooooood grief.

— Joey Coco (@Joeycoco79) July 6, 2013
First Dates definitely falls under guilty pleasure according to this Tweet:
Loving @C4FirstDates, funny, cringy and cheesy! Couldn't ask for better Friday night in! 😀

— Alison Pugh (@XxalipalyxX) July 5, 2013
This viewer wants to be a fly-on-the-wall … the restaurant is hiring actually:
I reeeeeeeally wish I worked in the restaurant in @C4FirstDates! It must be the most entertaining job in the world! #awkwardmomos

— Niamh McEntegart (@NiamhyWeeevy) July 5, 2013
If you go online, apparently you can have a go at dating someone who appeared on the show whose first date didn't work out.
Are you going to check out the singletons online? 
Read More
Filed Under: