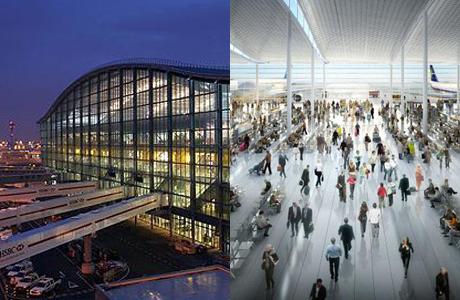 This real-time series reveals the untold story of how Heathrow Airport is run.
What's on: Airport Live  
What is it: The four-night long special gives viewers a behind-the-scenes look at one of the busiest airports in the world at London's Heathrow. The live broadcast also features pre-recorded reports and interviews, presented by Kate Humble, Dan Snow, Anita Rani and Dallas Campbell. The airport employees 70,000 people who help 70 million people per year get to where they are going. The show examines topics ranging from air traffic control and operations to aircraft noise and energy sustainability.
Air-date: June 17 – June 20, 2013 on BBC2
Who's watching: 2.86 million Brits
Why so popular: Travelling can be so much fun but getting through the airport can cause a stress-head for some. And, even worse, some people are terrified of flying. This show gives viewers' a chance to see what happens on a daily basis … live! It might be comforting for worried travelers and at the same time make others think, "I am so glad I'm at home in front of the telly at the moment."
American counterpart: The Travel Channel's Airport 24/7: Miami.
Airport Live takes you "as close as you can get" into airport life including but not limited to the air traffic controller booth, the cockpit and the runway as planes take off. Check it out below:
It's like a play within a play, this traveler is watching Airport Live while sat at Heathrow Airport waiting for his flight:
Very happy to watch @BBC's new show #AirportLive at @HeathrowAirport & I wish they have daily episodes! My new favourite!

— Ashu V (@Ashu_V_follow) June 28, 2013
Some people commented on the show being a bit lackluster … well, that's a risk when filming live as you can't necessarily control the outcome. This Twitter fan made this suggestion to liven things up:
If only they had done this on #AirportLive it would been much more interesting #raffaellacarra http://t.co/b21bqADv47

— Nick Chalmers (@NickChalmers) July 3, 2013
If you'd like to read up on the show, you can catch up with Heathrow Airport's recaps:
Want to know what all the #airportlive talk is about? Recap all the action here: http://t.co/33t42sobQv

— Heathrow Airport (@HeathrowAirport) June 29, 2013
Are you a fan of flying?
Read More
Filed Under: