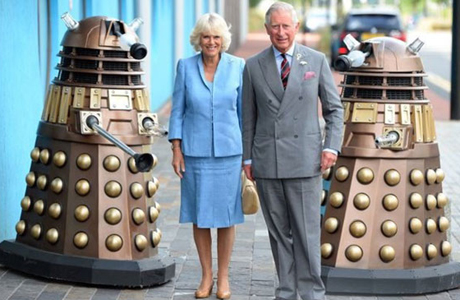 Today (July 3), one of Britain's greatest institutions got a little more British: Prince Charles and The Duchess of Cornwall paid a visit to the set of Doctor Who this morning, where they got up close with the inner workings of the TARDIS and a few of the Doctor's most formidable foes. His Royal Highness even tried his hand at being a Dalek. Watch and listen:
Matt Smith and Jenna Coleman served as the royal couple's tour guides around the TARDIS. Here's a bit of that: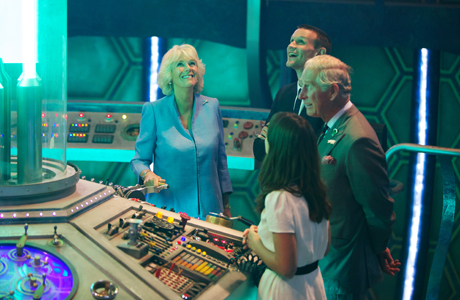 "It was great to welcome The Prince of Wales and The Duchess of Cornwall to set today," Matt Smith remarked about the visit. "Showing them how to fly the TARDIS was a real treat and something I never thought I would be doing when I first took on the role. The Prince of Wales said he remembers watching the show when he was 15 and seemed very knowledgeable on the Who history, so it's nice to think they are watching."
Jenna Coleman added, "Meeting The Prince of Wales and The Duchess of Cornwall today was such an honor. The Prince was particularly interested in the mechanics of how the TARDIS works and the storyline for the upcoming 50th anniversary special, but I didn't give too many secrets away."
This royal visit is part of Doctor Who's 50th anniversary celebrations, and the couple met with crew members from all disciplines on set, including the costume designer, storyboard artist, set decorators, and yes, lead writer and executive producer Steven Moffat. It was the first royal visit to the set since Doctor Who moved to the new Roath Lock studios in Cardiff back in March 2012.
Read More
Filed Under: