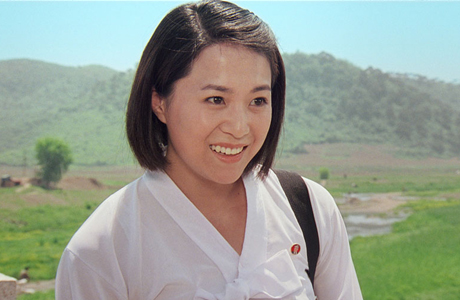 A few discerning New York moviegoers have just been treated to a very unusual concoction: the first North Korean romantic comedy to be made with Western co-producers — including British filmmaker Nick Bonner.
The film is called Comrade Kim Goes Flying and the energetic Bonner has been showing off his picture, which he co-directed, at the New York Asian Film Festival. It's a Disney-like "girl-power" story of a young coal miner who yearns to become a trapeze artist.
Nick Bonner says: "It's the first time in North Korea that we've got the story of a girl who wants to reach for her own dreams."
The picture was shot in North Korea with an all-Korean cast. Bonner has a long history of organizing tours and making documentaries in North Korea. He worked with a Belgian and North Korean producer to bring Comrade Kim Goes Flying to fruition.
The picture presents North Korea as a relatively happy land, leading some to question whether or not the film amounts to propaganda. Screen Daily writes, "The cheery spirit of Stalinist-era propaganda films is alive and flourishing in Comrade Kim Goes Flying, a fluffy, feel-good valentine to a little working-class girl with impossible dreams."
Bonner maintains this is not the case: "It's a film made for a North Korean audience and to them it's very, very clear it's a fairytale. It's a hundred per cent fictional film."
Bonner also states that the North Koreans didn't veto the content, adding, "This is North Korea's first film ever to be edited outside of the country."
The film has also played in the West where it's met with a mixed response. It's certainly been appreciated for its novelty. Variety's Jay Weissberg writes, "Comrade Kim is as slick and glossy as a medium-budget studio musical, and largely composed of short scenes with the texture of decorated Easter eggs. It may be unabashedly kitsch to Western eyes, but it's also such fun that criticizing its shallowness is churlish."
Nick Bonner is a filmmaker who is trying to build bridges. In relation to North Korea and the West he sees cinema playing an important role. "I think you take the decision to totally alienate the country or to engage — and film is one of the best mediums for engagement and delivering a very strong universal message — it doesn't come any better than delivering it on a big 35mm print," he says.
Read More
Filed Under: