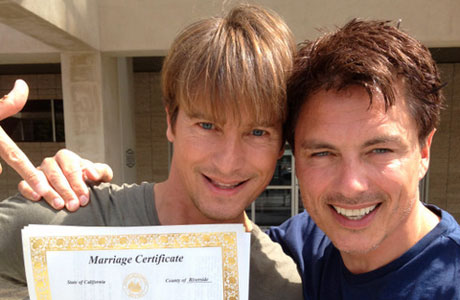 So, here's a happy thing that has just happened. John Barrowman and Scott Gill — his civil partner since 2006 — have decided to go the whole hog, jump the broomstick, tie the knot and generally get spliced, in accordance with the U.S. Supreme Court.
The pair put the following clip up on (the very aptly-named) WhoSay yesterday, in which they explain exactly what it is they are about to do, with John proudly proclaiming: "We're getting married in the state of California. Thank you Supreme Court, about time you made it legal. See you after we have the ceremony!"
And they even found time on the way to have a bit of a sing-song.
And then they put up the picture above, together with the words "We are now Legally Married. Thanks for all your great wishes. Jb and Scott"
Let's assume the car is borrowed and blue, shall we? Then with their civil partnership and their brand new wedding certificate, they've got the set.
Read More
Filed Under: