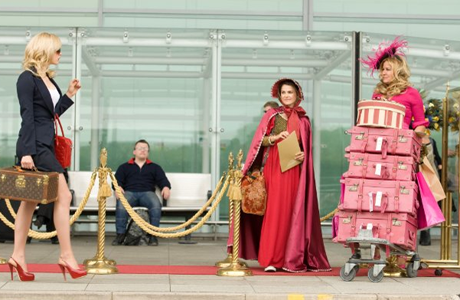 Keri Russell (The Americans) takes life into her own hands in the film adaptation of Shannon Hale's novel Austenland. Russell's character, Jane Hayes, is a 30-something New Yorker who is "secretly" consumed with the BBC production of Pride and Prejudice starring Colin Firth. Actually, it's not much of a secret to anyone who knows her. In the novel, her great aunt passes away and leaves Jane a trip to Austenland, a Jane Austen theme park.
Upon her arrival, her confidence is a little shaken when she realizes her role is an "orphan of no fortune" as her aunt could only afford the basic package. She lives in the servant wing or otherwise described as the "creepy tower" by another Austen-obsessed woman, Elizabeth Charming, played by Jennifer Coolidge (Legally Blonde).
Typically unlucky in love, she finds herself smitten with a Mr. Henry Nobley (J.J. Field) but he's standoffish. There is a nice guy who fancies her, played by Flight of the Conchords' Bret McKenzie, but, alas, she only has eyes for the guy with his nose in the clouds. Jane Seymour rounds out the cast as Mrs. Wattlesbrook who oversees the events of the park.
Her friends and family see her as directionless but meanwhile she knows what she wants. Unfortunately, it's a romanticized idealization based on fiction that may be difficult to realize. Even so, she comes into her own exclaiming, "I'm going to take charge of my story. An Austen heroin gets engaged by the end of the book. That is what I am going to do." You go girl.
Check out the trailer below where she travels through the airport in full-fledge 19th century gear:
Austenland will have a limited release in the U.S. on August 16 (NYC/LA) and appear in UK theaters on September 27.
Who do you think she will end up with? Or, head home solo? What would Jane Austen want?
Read More
Filed Under: