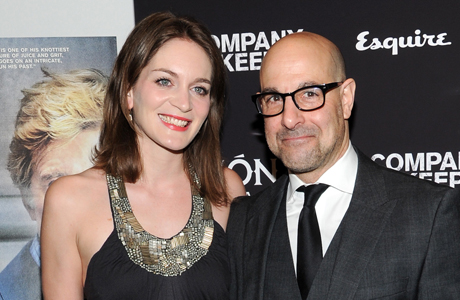 What do you do when you don't have the stars in town for a British film you want to launch? Well you go for what's possibly the next best thing and bring in one of the film's illustrious supporters to spread the word. That just happened with the British art-house picture Broken which opens in New York in a few days' time. Actors Tim Roth and Cillian Murphy were on location and couldn't make it to a special promotional screening — so Felicity Blunt, British literary agent, sister of Emily and wife of Stanley Tucci, stepped into the breach.
When asked why she's such a big fan of Broken she says: "It's very much like a modern retelling of To Kill A Mockingbird," adding that the American literary classic is still as relevant today as it was when it was published in 1960.
Broken, set in London, chronicles the troubled lives of a group of neighbors. The picture, which is in the social realist tradition, suggests all is not well in modern Britain.
Tim Roth plays the loving father of an 11-year-old girl called Skunk who, in the face of some harrowing turmoil, retains a refreshing optimism and survives.
For Felicity Blunt the relationship between father and daughter is remarkable. "It's just stunning and it's heartbreaking — and if you're a parent or if you're a child of loving parents you will champion it throughout what is quite a tough story — but it's very much at the heart of the piece."
Actress Eloise Laurence, who plays the British teenager at the center of Broken, won raves for her performance when the film was launched at the Cannes Film Festival last year. There were many proclamations that a star had been born. "She's incredible — she is an absolute star — and I would love to see this be the jumping off point where she just goes on and on and on," says Blunt.
Broken marks the directorial debut of Rufus Norris, one of Britain's top theater directors. Critical reaction to his film in the U.K. has been mixed — there were some complaints that it lacked focus. But it definitely made its mark winning for Best British Independent Film at the British Independent Film Awards last year. It will certainly face a challenge in trying to make headway with American audiences given that it's being released in the midst of blockbuster season.
Broken is a thoughtful but dark, complex film that many have found rewarding — but it's not feel good entertainment. Felicity Blunt is optimistic about the fate of this British art house film in the U.S. She says: "I think it's the caliber of the performances that will carry this through. My sister was in My Summer of Love, and it was a small independent British movie and look what it became. It really launched her."
Broken opens on July 19 and on VOD/iTunes/Amazon Prime
Read More
Filed Under: