Arthur Darvill isn't the only British actor starring in the Broadway musical Once. Opposite him every night onstage is Joanna Christie, who also hails from the U.K.
"I still can't quite believe that I'm doing this," says the thirty-one-year-old actress who comes from West Yorkshire. "This is what my whole life has been working towards really, so to be here on Broadway in a show I absolutely love is just one of my dreams come true."
The musical in which she's starring is inspired by the 2006 indie film Once which chronicles the relationship between a Czech immigrant flower seller played by Christie and a street musician in Dublin portrayed by Arthur Darvill.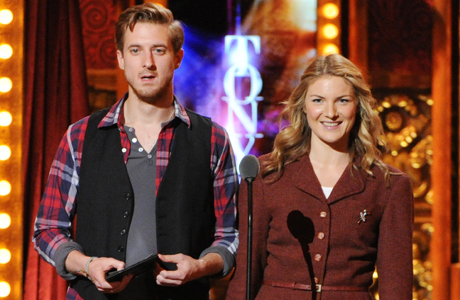 Christie, who's built up a career in stage work in the U.K., appreciates the way in which the relationship between the young man and woman at the heart of Once is depicted. "I think it's an unrealized romance — it's not simple — it's not black and white. It's not straightforward as love never is and so it's never realized, They don't live happily ever after but I quite like that we don't really know what the future holds at the end," she says.
One of the big attractions for the British actress of doing a Broadway show is that it's given her the opportunity to live in New York. She says: "I love it. I think it's an amazing city so at the moment I would love to stay here. Theater on Broadway is obviously unparalleled and for me it's always been about theater. It's why I wanted to be an actress in the first place and so if I could have a career here I would be a very, very, very happy girl."
But she's also keen to diversify: "I'd love to be able to go between theater and film and TV and radio and just do as much as possible. I would just love to keep working."
Asked what she misses about life in the U.K. she responds: "I'm not missing that much at the moment, it was Yorkshire tea but I found Yorkshire teabags so I don't miss that anymore!"
But she would like to see her family and friends. "I'm trying to get them all out to come and see the show and stay with me — so as long as they can come and visit I'm alright."
Read More
Filed Under: