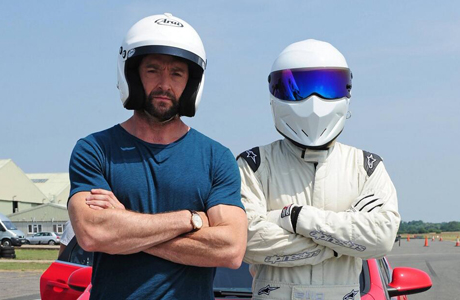 Wolverine in a Reasonably Priced Car?
Yup, that's what you'll see when actor Hugh Jackman takes to the Top Gear track in next week's show, premiering Monday July 29, 8:30p/7:30c on BBC AMERICA.
Of course, the Australian film and stage actor makes his Top Gear debut as his new X-Men spinoff, The Wolverine, hits movie theaters.
Jackman appears to have had fun, tweeting a photo of himself and his new white-helmeted buddy.
Awesome day taping Top Gear. Sworn to secrecy on how I did on the leader board. #TopGear #Wolverine pic.twitter.com/dY3XLWBqmd

— Hugh Jackman (@RealHughJackman) July 17, 2013
In fact, Jackman found that his own cinematic character has a lot in common with the show's silent driver extraordinaire.
"Wolverine doesn't like to talk to anyone," Jackman told TopGear.com in a special behind the scenes video. "The Stig obviously doesn't talk to anyone. I think they could be best mates."
While Jackman drove the new Top Gear Reasonably Priced Car, a Vauxhall Astra Techline, on the show, it did not go unnoticed, especially by media outlets like AutoWorld News, that the actor showed up at The Wolverine's London premiere in a fancy-schmanzy Audi R8.
• And while X-Men are busy saving the world from evil, the Top Gear guys (TG-Men?) are trying to protect us from environmental disasters, namely flooding.
And exactly how are they going to do this? By creating "hovervans" to navigate waterlogged roads.
Climatologist, engineer and inventor Richard Hammond explains his mission and gives us a preview of next week's show:
• Did you guess the outcome of last week's epic race in Spain? In other words, did you guess who reigned in Spain? Was it all about the drivers, or was it about the cars? Here, take a look as James May himself guides you through the "budget" supercars from last week in a behind-the-scenes video from TopGear.com:
Here's some other video related to last week's show. Here's an imported "Stigcam" segment – from Spain:
And here are Señores Clarkson, Hammond and May driving the same roadway in episode's "Action Replay" video:
• A few weeks back, we told you about a joint partnership between Top Gear and Honda to build the world's fastest lawnmower. We also told you that lawnmower speed is pretty important to people in England, the home of British Lawn Mower Racing Association. Last week, TopGear.com released some video of The Stig on the Honda/Top Gear hybrid.
• There are continued Top Gear production sightings. Even though this season has already started airing, crews are apparently still busy shooting, and local media outlets are always keen to report when filming is taking place in their areas. This week it was MKWEB, from the Buckinghamshire town of Milton Keynes, about 45 miles northwest of London.
Originally, the town council had announced that roads would be closed this Sunday because of the "Milton Keynes Automotive Manufacturing Event."
"But it has been confirmed to MK WEB," the website wrote, having obviously been discovered through diligent investigative reporting, "that the motor show [aka Top Gear], featuring the mysterious Stig, is the real reason why the roads will be shut."
• There were also road closures in the U.S. recently for the American version of Top Gear. In western New York state, the city of Buffalo closed down its waterfront Skyway for several hours to film a segment that looked like it involved amphibious vehicles.
Television station WIVB reported that "the big scene was on the highest point of the Skyway, which a producer says was chosen because it's visually stunning."
"Top Gear" films episode on Skyway
The segment is scheduled to air on the U.S. Top Gear on the History channel in the fall.
Read More
Filed Under: