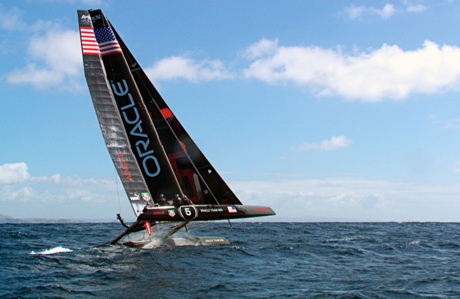 More than two centuries ago, we fought a bloody revolution to free ourselves from the yoke of British tyranny. But even as we celebrate our independence, we still look to our former colonial masters for entertainment, and – dare we say it? – inspiration.
On no other day is this paradox more evident than on this July 4, for at the exact same moment as we observe the birth of our country we also look ahead just four short days with rapt anticipation to a breathtakingly magnificent gift from our old oppressors across the Atlantic.
We speak, of course, of the first episode of season 20 of Top Gear, which premieres Monday night, July 8, at 8:30pm/7:30c.
And if it's "one of by land and two if by sea," then it's three for this Top Gear, because this episode is both by land and by sea. Jeremy Clarkson and James May engage an epic race in northern New Zealand. Clarkson drives a Toyota Corolla on the northern island's Ninety Mile Beach, while May skippers a million dollar America's Cup catamaran along the coast. And when we say skippers, we mean he was a cabin boy, without, as he says, a cabin.
There will be ocean sickness.
If you'd like to take a look at a New Zealand television report about the filming there last March, click here.
Meanwhile, Richard Hammond tests hatchbacks back in Britain.
• And, of course, the season brings more Stars in Reasonably Priced Cars. But the big news here is of course that the car of the last five seasons, the Kia Cee'd, is being replaced. And, yes, we know what the new car is. But because we know that some of you don't like spoilers, we struggled over how we'd deal with this hot piece of information. So here's what we're gonna do: if you want to know what the new car is, scroll down to the bottom of this page and click on "And the new Reasonably Priced Car is…"
• We mentioned last week that one of this season's challenges is the building of a "hover van" for use in flooded areas. Some observers near Stratford-on-Avon caught some of Top Gear's production crew filming their test of the new invention:
While they were in the area, Richard Hammond and James May stopped by a children's haircutting salon, which coincidentally had car-themed barber chairs.
"Yet staff failed in their attempts to tackle petrol head Hammond's unkempt hair," wrote the Birmingham Mail, though we're pretty sure they were referring to May's flowing locks.
"He actually brought up the subject of a haircut, but said he didn't think he would be a great ambassador for our company," said Sharkey's Cuts for Kids manager Emma Pettington.
• Okay, now it's time to make the big decision for yourself. Do you want to know what the new Reasonably Priced Car is, or do you want to wait until Monday to see it on the show?
Your fate is in your hands. Or your fingers. Or your mouse. Just don't say we didn't give you fair warning.
Stay on this page, or go back, if you don't want to know what the new car is.
On the other hand, if you want to know, just click below, either on the "new Reasonably Price Car is…" link or go to page 2 of this posting. But remember: once you click, it will be too late to maintain your pristine ignorance.
And the new Reasonably Priced Car is…
NOTE: Under no circumstances should you click on page 2 below if you don't want to know what the new Reasonably Priced Car is.
Read More
Filed Under: