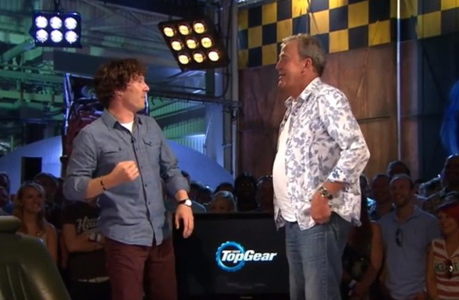 On next week's show, Benedict Cumberbatch takes a swing at Jeremy Clarkson.
No need to be worried, however.
"He's not some bar bralwer, not our Benedict," writes Radio Times.
Of course he isn't.
The star of Sherlock and Star Trek was just trying to demonstrate his knowledge of "Hollywood Fu" acting training to Clarkson by showing how he could deliver a realistic looking fake punch to the Top Gear host.
"We can confirm no Clarksons were injured in the making of the scene," Radio Times added.
You can see it all, including Cumberbatch's spin around the Top Gear track as this week's Star in a Reasonably Priced Car, when the episode premieres, Monday, July 22 at 8:30p/7:30c.
Here, courtesy of TopGear.com, is a behind-the-scenes look at the actor's appearance on the show:
• Thanks to public broadcaster WETA's Telly Visions blog for pointing this next item out. As we now know, Benedict Cumberbatch will now be enshrined in the honor roll of Star in a Reasonably Priced Car alumni. But when he joined his Sherlock co-stars Martin Freeman and Mark Gatiss to record a DVD commentary track for "The Great Game" episode, the three joked about Top Gear appearances:
Gatiss: "Have you done Top Gear?"
Cumberbatch: "No."
Gatiss: "It's only a matter of time!"
Freeman: "It's minutes away!"
Gatiss: "It is now!"
Cumberbatch: "The track's waiting for me."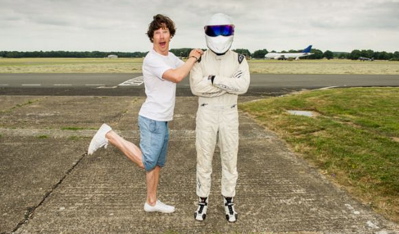 Gatiss: "Sherlock on his bike; Sherlock in his funny car …"
Freeman: "Sherlock on his penny-farthing."
Cumberbatch: "Sherlock in his horse-drawn cart."
Gatiss: "Sherlock on Total Wipeout. It's only a matter of time!"
Cumberbatch: "No! Oh, God! Imagine!
• Next week's show also features the epic race that begins in Gibraltar. Here are some photos of the guys along the way:
For more photos from next week's episode, click here for the episode three photo gallery.
• Last week, James May said farewell to the historic BBC Centre in Top Gear style. Here's an excerpt of "Parkour vs Motorcyclist: Race to the top of Television Centre":
• Also from last week's show, here are two video clips that were tweeted live during the broadcast Monday night. (Follow BBC AMERICA on Twitter.) The first clip is an "action replay" of Richard Hammond's taxi competition, an international Olympic-style challenge for cabs from around the world.
And last week's "Stig Cam" showcased a high-speed drive of the BAC Mono, the world's first single-seated, road-legal mass-produced race car. It came in second in show's leaderboard (to the Pagani Huayra) with a lap time of 1 minute 14.3 seconds.
"Turns out the car's presence at the show has had a profound effect on its sales," writes Motorward in an article titled "Top Gear Feature Boosts BAC Mono's Production."
"Apparently, being featured on Top Gear was the boost BAC needed," the website wrote.
"This is great news for Liverpool. BAC is an ambitious, visionary company, and its desire to relocate to our city speaks volumes," said Liverpool's mayor Joe Anderson, according to MotorTradesInsight.com.
At the same time, BAC, which stands for Briggs Automotive Company, is going to be moving the Mono's production to Liverpool – which the city is very happy about.
The website also pointed out that the BAC Mono will "serve as an ambassador for Liverpool all over the world, with the city brand emblazoned on the car's body as it takes part in high profile international racing events."
Last year, the specialized racing vehicle was given The Stig's Car of the Year award.
Last week's bonus video of  the BAC Mono was taken largely from the point of view of the white-suited, helmeted wonder:
• James May alert! The long-haired host is being spotted in small cities and towns along Britain's coast. Apparently, the Top Gear production team is still shooting some of this season's episodes, which is what brings May to these idyllic locations.
Last week, the Ipswich Star reported that Captain Slow had been spotted earlier this month in the North Sea resort town of Felixstowe in Suffolk in a yellow Ferrari. It was near the same hotel that scientist Stephen Hawking had visited last year – and where he thoroughly enjoyed his fish and chips.
At the end of last week, May was in another seaside town, Weston-super-Mare, on the Somerset coast's Bristol Channel. This time, instead of a sports car, May was driving a bright red London bus for a "Best of British" episode.
"The bus is a totally British product and I don't think there's a single part of it that's made elsewhere," May told the Weston Mercury. "Everything from the floor to the windows is made in this country."
May also said he felt particularly at home in the area.
"I'm very pleased to come to Weston. I think my mother and father got engaged here or at least came here on holiday an awful lot," he said. "I feel like I'm at home in a way when I'm coming to the West Country even though I only lived here for a year, but my grandparents and other family are from here."
• Have you gotten over the initial shock of the new Reasonably Priced Car? Of course you have. But maybe you want to relive its introduction – including the garden party and celebs who stopped by to boost the leaderboard. Here's an excerpt from episode one, courtesy of BBC Knowledge, with a special extra – subtitles – for those of you who can read Polish.
Also, via BBC Knowledge and again with Polish subtitles, an overview of the current Top Gear season with Messrs. Clarkson, Hammond and May:
Read More
Filed Under: