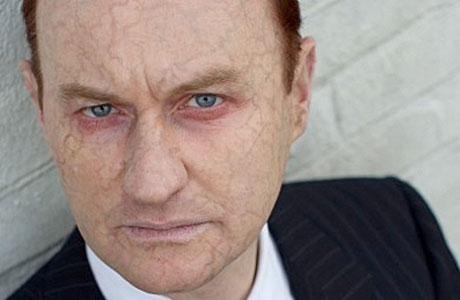 Yesterday, the web was abuzz with the news that Mark Gatiss – Sherlock's brother Mycroft Holmes, among many other things – is going to join the cast of Game of Thrones for a bit of sword and sorcery action. It's not the first time the comedian, writer and actor has made his mark as a special guest in an already-established fantasy world. He's particularly adept at delivering cold, evil and otherwise queasy characters, as this carefully compiled catalogue of cameos reveals:
Being Human (2012)
http://www.youtube.com/watch?v=yOjkNMHsx8s
The ickiest Gatiss guest-spot thus far, Mark played the ancient,fascistic and liquidly evil vampire Mr Snow, who comes to England, initiates a vampire-human war, and enslaves the world. Or does he?
Doctor Who (2007)
Not content with writing some of the eerier Doctor Who adventures of recent years – 'Night Terror,' ' The Unquiet Dead' – AND the forthcoming Who biopic An Adventure In Space And Time, Mark has made a few appearances in the show, either in voice form – Gantok in 'The Wedding of River Song,' Danny Boy in 'A Good Man Goes To War' – or in full physicality, as we can see here, as Dr Lazarus, in 'The Lazarus Experiment.'
Hyperdrive (2006)
OK, technically this is less disturbing, but it's on the list because OMG LOOK THERE WAS A BBC STAR TREK PARODY STARRING MIRANDA HART! This is from the pilot, directed by Armando Iannuci, in which Mark plays the trigger-happy First Officer York. However, he was replaced in the broadcast series by Kevin Eldon, with Sanjeev Bhaskar's role being taken by Nick Frost. Therefore it is still a cameo (ish).
Horrible Histories (2012)
All three of the performing League of Gentlemen turned up in the midst of the BBC's wonderful historical sketch show as a panel of dim and lofty film producers, receiving biopic pitches from some of the great figures of history. Naturally they sat Mark in the middle.
Psychobitches (2013)
http://www.youtube.com/watch?v=1skLs8JUx3s
Possibly the most disturbing of them all – if only because he's so good at it – Mark appears as Whatever Happened To Baby Jane-era Joan Crawford opposite Frances Barber as Bette Davis in Sky's celebrity-spoofing comedy.
What's your favorite Mark Gatiss moment? Tell us here:  
Read More
Filed Under: