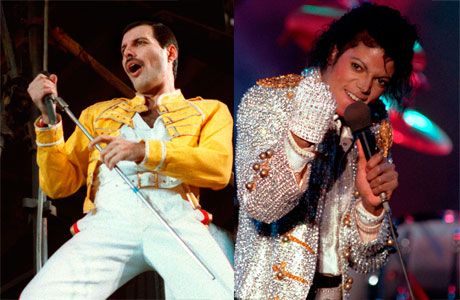 Unless that noise is my monitor  on the fritz, the internet has been abuzz with rumors of an official, finished release for three songs that Michael Jackson worked on with Freddie Mercury of Queen, in the early 1980s. They would have been up for inclusion in the Thriller album, as part of a loose working relationship the two singers struck up during that time.
Brian May and Roger Taylor of the band have got together with the producer William Orbit, to finish off the songs, originally recorded in 1983, during a fairly spontaneous six-hour session in Michael's home studio in California.
Brian summed up his involvement in the project on his website, saying: "We will have something for folks to hear in a couple of months' time, hopefully. Great evening with William Orbit working with some Queen/Freddie/Michael Jackson tapes."
Now, the interesting thing about this is that of the three songs, two are already available on YouTube  – the third being "Victory," which the Jacksons used as an album title – and one has been fully realised as an international hit single, with the involvement of at least two other major rock figures.
So there's "There Must Be More To Life Than This," a most Freddie-like ballad:
And "State Of Shock," a riffed-up rock song, with Freddie and Michael taking it in turns to bellow right in the face of some poor girl:
And if that Stones-y riff sounds familiar, it's because it was re-recorded as a duet between the Jacksons and Mick Jagger, and even released as a single in 1984. The first song Michael released after Thriller made him the most famous pop star in the world, and therefore a massive hit. Take one British rock star out, slot another one in.
And THEN, almost as if the song was a chain letter, Mick took the Jacksons out and replaced them with Tina Turner, for his Live Aid appearance in 1985.
History does not record whether Tina then chose to bring in David Bowie, just to prevent 10 years of bad luck, but I suppose Brian and Roger qualify as passers-on of the torch.
Read More
Filed Under: