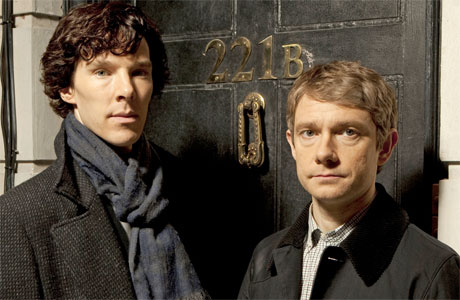 If you expected Steven Moffat, Mark Gatiss, and Sue Vertue to give up the goods on how Sherlock survived his multi-story plummet in Season 2's finale, I have a skyscraper in London to sell you.
During their first-ever panel at San Diego Comic-Con on Thursday (July 18), the trio were predictably coy about the plot point that has engendered months of feverish speculation. But they feel that all of the hullabaloo over Sherlock's fall is misplaced. "There really are only a few ways you can fall off a roof and survive," said Gatiss. "It's not black magic." No, the true can't-miss moment in the premiere will be when Sherlock and John Watson finally reunite, which Moffat calls a "showstopper." Set to air some time in 2014, Episode 1 of Season Three will be called "The Empty Hearse," a play on Doyle's story titled "The Empty House."
In the coming episodes, we'll also be treated to John's wedding to Mary — which Moffat denies is a spoiler, as it featured prominently in Sir Arthur Conan Doyle's books — and the return of Andrew Scott, but make no mistake: Moriarty is still dead after his self-inflicted gunshot wound in the finale. "We brought him back in to be a dead body," said Sue Vertue, "because we needed a body. It was actually cheaper to get Andrew Scott instead of a mannequin." Also, during the panel, the audience was treated to a scene between Sherlock and Watson, but were sworn to secrecy. But I can reveal that the scene prompted the audience to cheer in a nearly full standing ovation.
Neither Benedict Cumberbatch (Sherlock) nor Martin Freeman (John) were present at the panel: the brand-new A-listers have pretty full dance cards at the moment. But they did send cheeky video messages to the crowd, Freeman from the Hobbit set and Cumberbatch from an undisclosed location. As Moffat told the audience, "Benedict is the goofy one. Martin is the dry, sardonic one," which is a nice reversal on their characters' dynamic. Showing off his marvelous sense of humor, Cumberbatch recreated how Sherlock survived his "demise" using stuffed animals, with the signal conveniently going out when he got to the good stuff. (You can watch that video over at Entertainment Weekly.)
Some other notable moments from the Sherlock panel: when asked what they'd say if they could talk to Sir Arthur Conan Doyle, Gatiss replied, "We owe everything to Conan Doyle. He's a genius writer, possibly the greatest writer of short stories that's ever been, and everything thing we do we owe unto him. So I'd like to say, 'Thank you but, by the way, spiritualism isn't true.'"
Moffat added, "He sort of affected to believe throughout his life that he didn't really matter, that his stories weren't very good. But his stories are simply the best storytelling of its kind, and you are sort of inventing television, which hadn't been invented yet. The idea of different adventures for the same characters on a weekly basis is his idea." Vertue added that Gatiss and Moffat, when stuck on scripts, often refer back to their source material for inspiration. "I was just trying to write a good entrance for Sherlock in Episode 3, which we're about to film," Moffat said. "And I went back to [Conan Doyle's] stories and found a good entrance for him."
When asked about Conan Doyle stories he'd like to tackle, Gatiss replied that he'd like to try his hand at "The Red-Headed League," and Moffat said, "'The Speckled Band' is genius. If you haven't read the 'The Speckled Band,' go read 'The Speckled Band.' It makes no sense at all, but there's something exciting on every page. I read it when I was very young, and I thought, 'It doesn't get better than that.'" But Gatiss added that he and Moffat "just sort of take the bits from [Conan Doyle] that we like, rather than adapting full stories. We're always thinking about big storylines and movie-sized stories. We try to think of stories with the sort of scale that deserve that sort of length."
Read More
Filed Under: