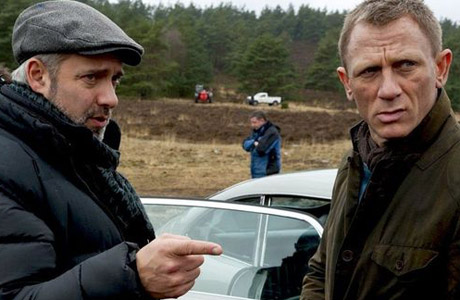 Wait, what's this? Sam Mendes is directing the next installment of 007? We thought that was off the table. Well, in our defense, we don't think Mendes even knew what the plan was up until recently. Sony films has officially confirmed that Mendes will be returning for the unnamed 24th film.
Mendes had bowed out from the position in March, 2013 telling Empire Magazine it was a "very difficult decision." He had not ruled out the idea of returning to the 007 franchise down the road but at the time he wanted to focus on his upcoming project, a stage production of Charlie and the Chocolate Factory, saying he wants to give it his "complete focus over the next year and beyond."
He went on to say, "Directing Skyfall was one of the best experiences of my professional life."
The film was not only an enjoyable experience but the top grossing 007 film to date, smashing through the $1 billion mark. Understandably, it would be hard to walk away from such a success and hand it over to another director.
Mendes has been allowed the time needed to focus on both projects, Charlie and the Chocolate Factory and Bond 24, saying he was, "very pleased that by giving me the time I need to honor all my theatre commitments, the producers have made it possible for me to direct Bond 24. I very much look forward to taking up the reins again, and to working with Daniel Craig, [producers] Michael G. Wilson and Barbara Broccoli for a second time."
The film is set to hit theaters on November 6, 2015 in the U.S. and October 23, 2015 in the UK. The script will be written by John Logan.
Are you happy to hear Sam Mendes will be returning to the franchise?
Read More
Filed Under: