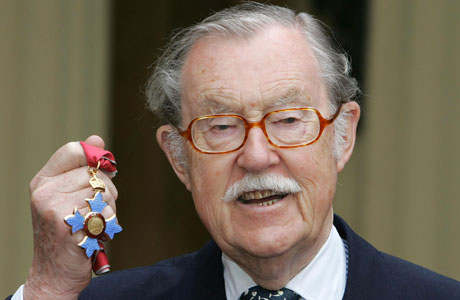 Preparing to write about someone whose face and voice is an integral part of your life to date, to an audience that may be entirely unaware of their existence, is a curious sensation. It's hard to pull the words together to sum up exactly how familiar Alan Whicker is to British people of a certain age – as familiar a presence as Walter Cronkite or Dan Rather – without sounding a little bit as though feelings beyond normal appreciation may be at play.
Suffice to say that, during the formative years of British TV, Alan Whicker defined a certain type of roving reporter, and remains an impressively high benchmark for TV journalism to this day.
Never afraid of appearing ridiculous, or tackling serious topics head on, his style was that of the visiting dignitary from the British embassy. A colonial stiff arriving in the middle of something that wasn't really his concern, and sticking his beak in. That he managed to turn this into his secret weapon is a mark of his considerable charisma, and his experiences out in the world before TV came calling.
Born in Cairo, Egypt, Alan came to live in his parents' native England when he was three years old. He was commissioned to join the army at 16, becoming an officer and joining the Film and Photo Unit in Italy in 1943, during which time he met Field Marshal Bernard Montgomery and filmed the body of Benito Mussolini.
On his return to civilian life, he became a foreign correspondent, joining the BBC in 1957 and ending up with his own series, Whicker's World, in which he travelled all over the world, filming local culture and traditions, and talking to everyone, from dictators to street kids, with the same avuncular charm.
Here he is, meeting long-haired beatniks in 1960.
And meeting U.S. cadets in the late '70s.
And delivering a piece to camera in the middle of his celebrated documentary about François 'Papa Doc' Chevalier, dictator of Haiti:
And as legends often are, he was ripe for parody, as this Monty Python skit "Whicker Island" proves:
British broadcasting will never be like this ever again.
Read More
Filed Under: