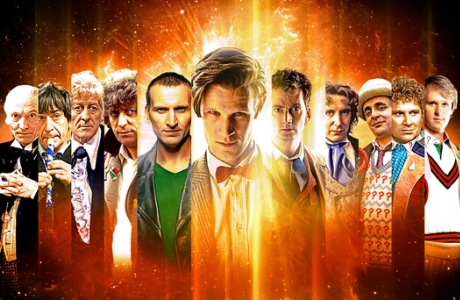 Hello there, ladies and gentlemen! Are you a huge Doctor Who fan looking to head off to San Diego Comic-Con or some other event cosplaying as the Doctor? Well, look no further. This quick guide will give you all the key factors necessary to remaining on point in your cosplay. If you're looking for a more in-depth guide to a particular Doctor, just click through the link above the costume description for an extensive dive into a convincing way to cosplay each one. Allons-y!
And be sure to follow @Anglophenia on Twitter for Doctor Who coverage of San Diego Comic-Con, including the best cosplay and Sunday's 50th anniversary panel with celebrity Whovian Craig Ferguson as moderator.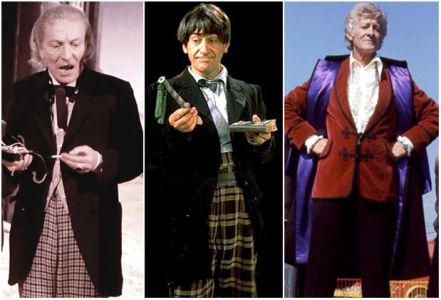 1. The First Doctor – William Hartnell
Hair: White wig
Shirt: Dress shirt
Tie: Black, ribbon bow tie
Jacket: Silvery/tweedy waistcoat and long dress coat
Pants: Baggy, informal pants
Shoes: Shiny shoes
Accessories: Optional white scarf and black hat
2. The Second Doctor – Patrick Troughton
Hair: Scruffy Beatle-wig
Shirt: Blue, slightly too big, large-collared shirt
Tie: Bow tie or a blue tie tucked into your shirt
Jacket: Cummerbund and battered dress jacket
Pants: Big, baggy, plaid pants and suspenders
Shoes: Unpolished ankle boots
Accessories: Pocket handkerchief, a stripy recorder, and a 500-year diary
3. The Third Doctor – Jon Pertwee
Hair: Light, curly wig
Shirt: Frilly shirt (especially the cuffs) with a large collar, well-pressed
Tie: Optional tie, color complimentary to the jacket
Jacket: Rich-colored, velvet jacket in good order; waistcoat optional, but should match coat in color and fabric
Pants: Black, dark brown, or gray pants that are pressed and neat
Shoes: Polished shoes
Accessories: Leather gloves for outdoor use, a gold pinkie ring, and a sonic screwdriver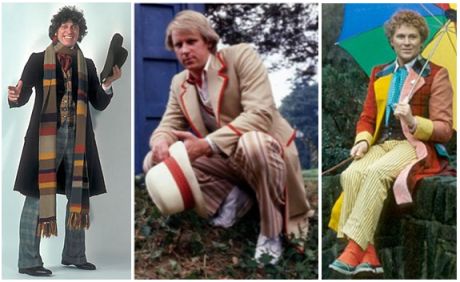 4. The Fourth Doctor – Tom Baker
Hair: Brown, curly wig with proper sideburns
Shirt: Plain shirt, nothing too modern
Tie: A cravat or neckerchief
Jacket: Waistcoat in autumnal colors, tweed and plaid are fine; Coat of almost any length as long as it hugs the torso and flares a bit at the waist
Pants: Full-length tweed or plaid
Shoes: Nicely-polished dress shoes, or something leathery and smart
Accessories: Scarf and a big felt hat
5. The Fifth Doctor – Peter Davison
Hair: Side parted, light-haired wig
Shirt: Normal, long-sleeved, white shirt
Tie: No tie
Jacket: Either a nice bright cream waistcoat or a sparkling white v-neck cricket jumper with colored piping; lightweight, beige, calf-length coat with red piping everywhere. This is not a cold weather coat.
Pants: Tan and red striped lightweight pants, held in place with suspenders
Shoes: White, comfortable shoes
Accessories: A summer hat, celery
6. The Sixth Doctor – Colin Baker
Hair: Dark blonde, curly wig
Shirt: White shirt
Tie: Long, turquoise, and polka-dotted
Jacket: Deep-burgundy, patterned waistcoat with blue mother-of-pearl buttons, and a frock coat in all those lovely sixth doctor colors
Pants: Slightly baggy, yellow, and with a black pinstripe
Shoes: British racing green leather shoes/boots with a white rubber sole and red spats
Accessories: Multi-colored umbrella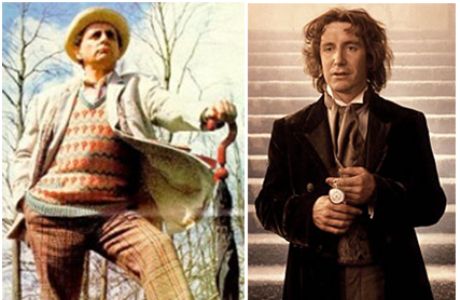 7. The Seventh Doctor – Sylvester McCoy
Hair: Unkempt
Shirt: White shirt
Tie: Paisley, dark necktie
Jacket: Yellow sweater covered in red question marks with a lightweight cream or off-white linen jacket
Pants: Plaid, well-fitting
Shoes: Two-tone brogues in brown and cream
Accessories: Question mark umbrella, panama hat with paisley hatband, paisley scarf, paisley handkerchief, a fob watch attached to the lapel
8. The Eighth Doctor – Paul McGann
Hair: Brown rockstar wig with a bit of curl to it
Shirt: White dress shirt with high collar
Tie: Big floppy cravat in battleship gray
Jacket: Silky and embroidered six-button waistcoat and a bottle-green velvet frock coat
Pants: Light-gray, high waisted, and held up by suspenders
Shoes: Black rubberized ankle-high shoes
Accessories: Fob watch, sonic screwdriver with a red top, and a tie pin to hold the tie back.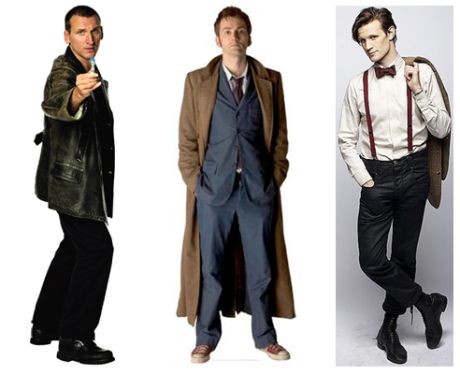 9. The Ninth Doctor – Christopher Eccleston
Hair: Cropped short
Shirt: V-necked T-shirt in burgundy, navy blue, or British racing green
Tie: No tie!
Jacket: Medium-length leather coat with large lapels
Pants: Hard-wearing black uniform pants
Shoes: Strong leather boots
Accessories: Sonic screwdriver which looks like a very thin, blue torch, and a normal key on a string
10. The Tenth Doctor – David Tennant
Hair: Gelled up
Shirt: Normal shirt in white, dark blue, or burgundy depending on the suit color
Tie: Thin, dark, and not over-patterned
Jacket: Slim-lapelled, four-button jacket in blue or brown pinstripes; a tan overcoat
Pants: Suit pants which match the jacket
Shoes: Converse in cream or deep red
Accessories: Psychic paper, glasses, and an old blue sonic screwdriver.
11. The Eleventh Doctor – Matt Smith
Hair: Floppy mop, side-parted
Shirt: Snug-fitting dress shirt made of thick cotton in a subtle color
Tie: Bowties
Jacket: Tweedy, fitted, and sometimes featuring leather elbow patches
Pants: Black and tight, held up with skinny suspenders
Shoes: Tan loafers or black 18-hole laceup boots
Accessories: Fez, sonic screwdriver with an emerald light
Well, that takes care of the various regenerations of  your favorite TARDIS-traveling Time Lord. If you're looking to dress like a companion instead of the Doctor, more power to you. You can find many of the companion cosplay guides in our "How to dress like Doctor Who" tag. Cheers to our own Fraser McAlpine for all the extensive guides.
Read More
Filed Under: