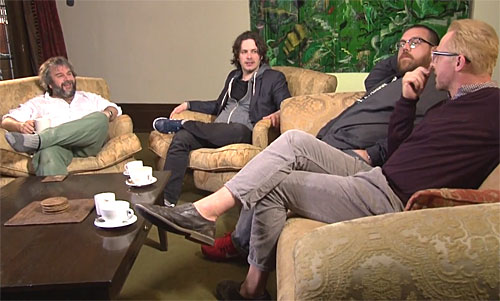 Pro tip: if you haven't seen The World's End yet, maybe bookmark this page for now, and come back to this later.
Because this lovely video, in which Peter Jackson effectively does a better job of interviewing Simon Pegg, Nick Frost and Edgar Wright than most broadcasters would, has the discursive, autopsied feel of a DVD commentary.
But while you're waiting, take a moment to examine Peter's foot in the picture above. He is either wearing the most soft and foot-hugging slippers in the world, or he's slipped out of his shoes and is parading this fact by waving his socked foot in the air for all to see.
And Simon Pegg appears to be wearing no socks at all.
What can it all mean?*
* Probably very little.
Read More
Filed Under: