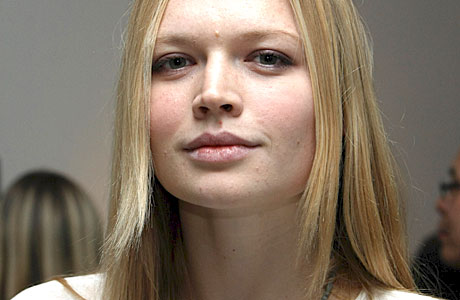 Benedict Cumberbatch's current schedule could put the whirling Tazmanian Devil in the Warner Bros cartoons to shame. However, this didn't stop him putting a little time aside to teach his friend Katia Elizarova the basics of stage acting, for her London stage debut. And from her description, he's as meticulous with his method as Mr Holmes himself.
Katia, who is the Russian model some celeb sites have been linking romantically with the Sherlock star, is appearing in a portmanteau production at the Platform Theatre called Sunstroke, which comprises Anton Chekhov's The Lady With the Dog and Ivan Bunin's Sunstroke.
She told the Telegraph that Benedict has been coaching her on the proper method to approach her role, making her think about her character in suitably forensic detail: "I've no theatrical experience, although I have done film. They gave me the role because I am so Russian. We have a tendency to traumatise everything and have a reputation for being quite dark.
"I have just got my script and began rehearsals. Ben has been a great help, but he is very strict. He asks me all about what my character wears, and even how she dresses her daughter. I said, 'Well, in a dress,' and he said, 'No, that isn't good enough, what dress?'
"So I explained that my character is trying not to draw attention to her daughter because she is planning an affair, but he just said, 'Nevertheless, you ought to know how your character would dress her daughter'."
Is it just me, or would this make a great scene for a movie? Flinty teacher with a soft heart, cocky pupil with a lot to learn, Benedict Cumberbatch, a montage: it practically writes itself.
Read More
Filed Under: