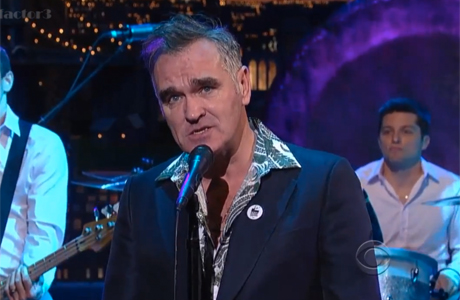 Back in March, the British indie star and purse-lipped grump Morrissey was hospitalised with an ulcer, Barrett's oesophagus and double-pneumonia. At the time, his representatives were keen to play down the situation, claiming that he would honor his concert commitments and keep on rocking until kingdom come.
Well, it seems this was largely wishful thinking on everyone's part, the North American tour was cancelled, and in actual fact the "Still Ill" singer was seriously unwell – "dying," in his words – as he has now revealed to the Chilean newspaper La Tercera.
He explained that his various ailments arrived all at once, while on tour:
"I had played in January in Ohio, and I was perfect, but the next night at the hotel I collapsed. I lost consciousness and when I recovered, I was covered in black blood and did not know what it was.
"I was taken to a hospital, quickly discovered I had an ulcer, Barrett's oesophagus, and then [it] all finished in double pneumonia."
So, a good time to take a well-earned rest, yes? Well, eventually:
"I spent over four weeks on a drip, but I refused a blood transfusion. I managed to do some more shows in the U.S., but when I arrived in Mexico the doctors told me to stop.
"Not being able to finish the tour was devastating, but doctors warned me: 'A few weeks ago you almost died, and now you say you'll do 18 shows more? Are you trying to kill yourself?' In fact, I think that was what I was doing…"
And, according to Moz, dying on stage would be the right way to go anyway:
"Seriously, I did not worry too much, because eventually we all die one day and in my case it would be better to die on stage than on a sofa covered with bread crumbs. Yes, the doctors told me: 'Do you realise that you are dying?' But it's so abstract to hear, you do not know what to do.
"Furthermore, we are all dying, even when we sleep we are dying slowly, but until that happens, you give everything you have. There will be much time to rest, once we get to the grave."
Or, y'know, take some rest, have a bit of medicine and keep going for a bit longer, perhaps?
Read More
Filed Under: