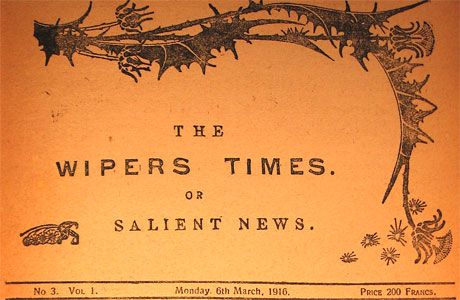 File this away for later, but it's just been announced that Monty Python's Michael Palin is set to star in a BBC drama about a relatively unknown aspect of the First World War – a satirical newsletter, created in the trenches of Ypres.
The Wipers Times is named after that newsletter, created when the 12th Battalion Sherwood Foresters (Nottingham & Derbyshire Regiment) discovered a printing press in the middle of a battlefield, and used it to entertain themselves by poking fun at their own situation and generally exercise their wits.
Here's an extract of their work, concerning the sudden popularity of wartime verse:
"We regret to announce that an insidious disease is affecting the Division, and the result is a hurricane of poetry. Subalterns have been seen with a notebook in one hand, and bombs in the other absently walking near the wire in deep communication with their muse. Even Quartermasters with "books, note, one" and "pencil, copying" break into song while arguing the point re "boots. gum, thigh". The Editor would be obliged if a few of the poets would break into prose as the paper cannot live by poems alone."
The script was written by Nick Newman together with Ian Hislop, the editor of the British satirical magazine Private Eye, and a man who knows a thing or two about making light of a bad situation.
Michael is joined by Ben Chaplin, Julian Rhind-Tutt and Emilia Fox, and according to BBC2 channel controller Janice Hadlow, it's going to attempt to capture some of that dark humor.
She said: "Just like the original Wipers Times, this new history drama will be filled with jokes, spoofs and amazing examples of courage behind the laughs. I am delighted to be bringing such a brilliant drama and cast to BBC2."
And in case you're wondering, the newspaper was given that name because that's how the troops pronounced Ypres.
Read More
Filed Under: