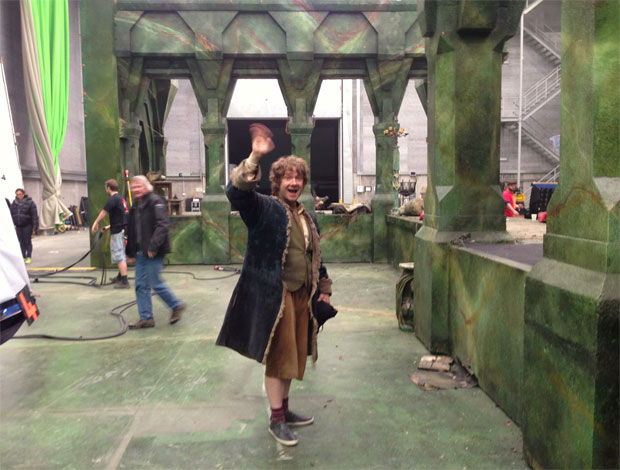 God bless social media, and Peter Jackson for being particularly good at it!
So, in a series of Facebook posts that have seen us say emotional farewells from the set of the final Hobbit film, Peter posted these adorable pictures today.
First, the on-set wave goodbye from Martin Freeman (above), the leading man, wandering off to remove those feet and get back to his sensible John Watson shoes.
Peter added the following tribute to his post: "Tonight Martin Freeman finished his last shot as Bilbo Baggins. The end of an incredible two and a half years. I cannot imagine anyone else in this role – a character that Martin has nurtured and crafted with love and great skill.
We have said goodbye to our elves, humans, wizards and now the hobbit. We now enter our final 2 weeks of pick-ups, and it's wall to wall dwarves. These pick-ups have been gruelling and intense, but I'm so happy with what we've been shooting. These next two movies are going to be pretty great!"
And then, seconds later, this, under the heading "Smaug admires Bilbo's feet" – Bilbo is the beneficiary of a Cumber-pat:
The second Hobbit movie, The Desolation of Smaug, is set to debut on 13 December, with There and Back Again finishing things off on 19 December 2014.
Read More
Filed Under: