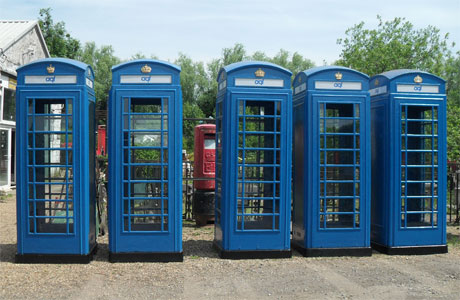 It's curious sight, this, isn't it? A line of old British red phone boxes, except they are not red, and they sort of look TARDIS-y except they're not really TARDISes.
Allow me to explain. In Leeds, these retired veterans of the communication wars have been put to good use as mini WiFi hubs. Yorkshire tech firm AQL has reconditioned 24 old British Telecom phone boxes, and repainted them blue, as a partial tribute to the good Doctor's favored mode of transportation.
They broadcast a free WiFi signal (although luckily not like the WiFi signal in 'The Bells of St. John'), powered by solar energy, and through a series of touch screens on the outside, are available for phone calls, video messaging and emergency phone calls too.
And they've even been given a suitably Whovian name, of a sort. The old English name for the city of Leeds is Leodis, so these boxes have been given a suitably full acronym: Leeds Electronic Ordnance and Digital Information System, or LEODIS.

Dr Adam Beaumont, CEO of AQL commented: "The boxes will also allow members of the public to leave video blogs and soundbites of their memories of the area in past times.
"We won't be putting the blue boxes in any other cities, as we want them to be a symbol of Leeds, we want them to become iconic."
Which shouldn't be hard. The red ones already were.
Read More
Filed Under: