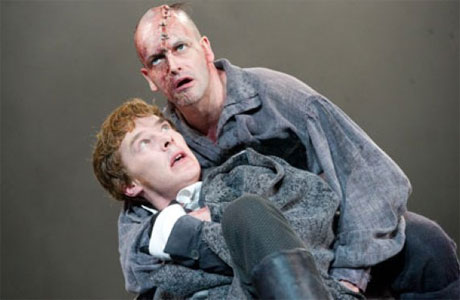 Mary Shelley's gothic tale of Promethian anguish has long held a fascination for movie audiences. So much so that there is still a popular confusion over whether the name Frankenstein applies to the crazed scientist that builds a man out of dead body parts, and then uses electricity to bring him to life, or the creature himself.
(Note: it's the scientist. Doctor Victor Frankenstein, to be precise. But you try telling anyone that without looking like the worst kind of pedant.)
So it should come as no real shock to find out that there are three movie versions of the story in various stages of production, each as potentially exciting as the others.
The least ready to start, quickest to describe, and the one with potentially the biggest excitement behind it, came from the comment made by director Guillermo del Toro that he would love to create a version of the story, and put busy, busy Benedict Cumberbatch in it.
This, of course, coming after the hugely successful stage run of Frankenstein in which Benedict and Jonny Lee Miller alternated playing both the doctor and his creature.
Next, and nearest to completion (and least faithful to the original story), is I, Frankenstein, which stars Aaron Eckhart as the creature, named Adam, and Aden Young as Victor in a story of warring immortals, with  Bill Nighy in an as-yet-unnamed role.
And then there's Paul McGuigan's Frankenstein project. According to Deadline, James McAvoy has just signed up to play Victor, and he'll be ably assisted by Daniel Radcliffe as Igor – a character that is not in Mary Shelley's original story. In fact, this will be an interpretation of the tale that owes more than a little to the nuances and diversions picked up by everyone else's versions along the way.
Daniel told Empire magazine that it's this acceptance that the story has become a modern myth, subject to all manner of variance, that first drew him to the project. That and the script:
"If I remember correctly, the script said, 'Frankenstein By Max Landis, Based On (The America Popular Culture Zeitgeist Interpretation of) Mary Shelley's Frankenstein.'
"It's far and away the best script I've read coming out of a big studio in the time that I've been off Potter. It's definitely going to be unusual."
Let's face it, with the competition it faces from the other two movies, it will need to be.
Read More
Filed Under: