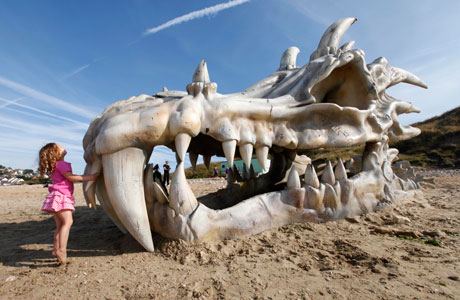 Poor the United Kingdom.
Just over a week after London was terrorised by a massive Mr Darcy, we have photographic proof that our ancestors were plagued by enormous dragons.
Not dinosaurs, not lizards with big ideas, actual dragons.
Look at these pictures! An enormous dragon skull found on the beach at Lyme Regis, in Dorset only this week, amid tons of ammonites and trilobites in what is commonly called the Jurassic Coast, because of the volume of fossils that are discovered there.
This one, however, doesn't so much take the cake as bake it, lay it on a flowery tablecloth, offer it to friends and family, and then run off before anyone can take a bite. It's a DRAGON! I didn't even know there were dragons in real life and now incontrovertible proof has finally arrived.
That little girl is just lucky it's a dead dragon and all the fire-creating glands have rotted away over time.
I mean, yes, technically you could say this is just a publicity stunt concocted by the UK media streaming service Blinkbox to celebrate the arrival of season 3 of Game of Thrones, but that's just what THEY want you to believe. The real truth is that there definitely are real dragons, we have proper definitive proof now, and that nothing creates attention like a big version of a thing on the TV.
Now, if you'll excuse me, I'm just devising a net big enough to capture a giant Doctor House from out of House. Just in case.
Read More
Filed Under: