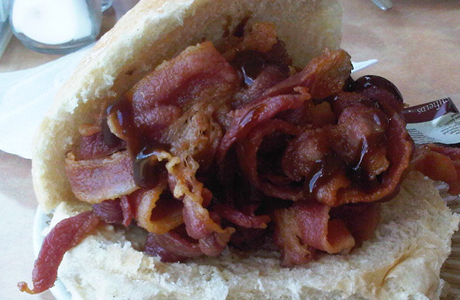 For many British expats, there's nothing like food to get us waxing lyrical about our childhoods or weeping softly into our expensive, imported favorite tea from home.  Just the mention of a Battenburg or Garibaldi brings fond memories of Sunday tea time flooding back, never mind that they're not even that popular over the pond these days.
Fortunately, for many expats in the USA it's getting easier and easier to score our beloved victuals — either from a local "Brit" shop or one of the increasing number of online British food suppliers. One such shop in my area (Chicago) is Jolly Posh, owned by expat Brit Nick Spencer.  Spencer tapped into the British horror of no-decent-bacon-in-the-States a few years ago and began delivering heaven in a bun, (otherwise known as back bacon and pork sausage sandwiches), at local Farmers' Markets.
He has since gone on to open a lovely old-fashioned shop in the Irving Park 'hood, which is packed with goodies from the UK and Ireland; however it's bacon and sausage butties that most of his customers salivate over. Jolly Posh has an extensive range of condiments such as HP sauce and Branston pickle as the icing on the cake, so to speak. As well as bacon and sausage, Spencer says that any kind of cake and biscuit (cookie to Americans) also sells well.
Another Chicagoan riding the nostalgia wave is expat Irishman Sean McGuire. He's soon to open an ice cream parlor in the West Loop, to be called Cone. Apart from the absolutely divine sounding Jameson-infused ice-cream (I'll take three), McGuire will also be selling — wait for it — 99's. Oh yes. While the Cadbury's flakes will be the real thing, he's had to re-work the Mr. Whippy ice cream component, and he won't be calling it a 99 either. When I expressed my shock and outrage on behalf of Brits and Irish folk everywhere, he very sensibly said that he doesn't want people to think it costs 99 cents. Fair enough.
For me, it's the silly things like pease pudding, a tradition in the northeast of England. Pease pudding is a savory dish made mostly from split peas. It has a consistency like thick hummus and is only a little lighter in coloring. Typically served with ham and at its best between two pieces of light, fluffy bread. Apparently you can buy it in a pot, but I wouldn't know that as I always have to have mine fresh from the meat counter. Just call me a foodie!
When in England, I also make a mad dash for the huge variety of Schwartz cooking sauce packets available in every supermarket. Weighing an ounce at most, dozens of these are stashed in my suitcase and serve to relieve the utter tedium of having to cook daily meals to please every family member. (It works!) Sometimes I buy things that I probably wouldn't even look at were I still living in England. I have to have fish and chips once when I'm there, a dish that would probably be banned from my diet if I actually lived there. I usually include a culinary experience or two for my kids; a trip to the coast will include a fresh fish market where I insist on buying a packet of winkles, and then instruct my kids to pull one out of its shell with a pin and eat it. (Ok, so far I haven't convinced a single one of them to eat something that looks like it was pulled out of their noses.)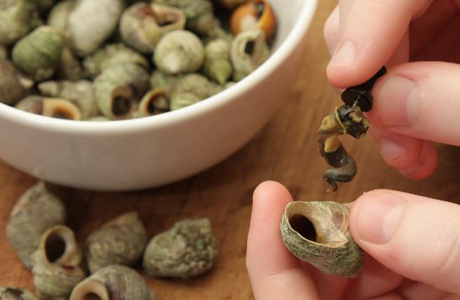 Talking of supermarkets as I was, I often just wander the aisles, taking in the familiar varieties of crisps (chips to Americans), juices and ready-made meals, marveling at the tidy shelves and faultless merchandising. There may be huge variety in the States, but there's nothing quite like a spotless Sainsbury's dairy aisle.
SEE ALSO:
A British Expat's Guide to Cooking in the U.S.
10 Items You Should Stock Up on When You Visit Britain
Food and Drink: 10 Things That Taste Different in the U.S.
So what do you miss from Britain?
Read More
Filed Under: